United States of America
Ayanah Moor
Change
25.07.11 12.08.11
Ayanah Moor is a conceptual artist whose work focuses on issues of gender, race, and sexual identity, which she analyzes through the lens of popular culture. From Hip Hop and politics, to black talk and women's football, Moor appropriates popular themes and redefines them to generate a dialogue that invites reflection. In this context, the artist uses performance, graphics, drawing and video as creative tools.
Moor's work has been studied and published in: What is Contemporary Art? (University of Chicago Press) as well as in "Meridians: Feminism, Race, Transnationalism", Indiana University Press, USA.
The Advancing Black Arts Initiative of The Pittsburgh Foundation has funded the artist's residence en´ace.
ARTIST'S TESTIMONY
Shift / Cambio is a project that explores the notions of blackness in Argentina. To my understanding, racial policies in Buenos Aires and the predominance of the white race is the consequence of a curious historical fact.
According to a recent census, the racial makeup of the city is 88.9% white, 7% mestizo (Spanish-indigenous), 2% Asian, and only 1% black. However, in 1778 blacks were 30% of the population.
Buenos Aires allows me a fascinating space to interrogate the visible change of racial identity.
This group of printed works will highlight historical readings of blackness as well as cultural and political identity in Argentina.
BIO
Ayanah Moore
1973 | Virginia, USA.
Lives in Chicago. Illinois, USA.
STUDIES
1998 | Master of Fine Arts, Engraving. Tyler School of Art. Temple University. Philadelphia, USA.
1995 | Bachelor of Arts in Painting and Engraving. Commonwealth University of Virginia. Virginia, USA.
Associate Professor of Art. Carnegie Mellon University. Pittsburgh, USA.
EXHIBITIONS
Subliminal Project. California, USA.
Good news. 707 Penn Gallery. Pittsburgh, USA.
Forge Contemporary Art. Valencia Spain.
Ice Box Project Space. Philadelphia, USA.
Box. Wexner Center for the Arts. Columbus, USA.
Van Brunt Gallery, Beacon. New York, USA.
Urban Institute of Contemporary Arts, Grand Rapids and Anchor Graphics. Chicago, USA.
BENEFITS
2009 | The Pittsburgh Passion Project, Independent Women's Soccer League. Pennsylvania, USA.
RESIDENCES
Auckland Print Studio. New Zealand.
Vermont Studio Center. USA.
Women's Studio Workshop, Rosendale. New York, USA.
Blue Mountain Center. Blue Mountain Lake. NY. USA.
Atlantic Center for the Arts. Florida, USA.
PUBLICATIONS
2008 | Ayanah Moor, Still, Meridians: Feminism, Race, Transnationalism, vol. 8, Indiana University Press. USA.
Related Activities
´aceNITE, Exhibitions
Change
Ayanah Moor
10.08.11 16.09.11
Change (by Alicia Candini) 
Was there a political plan to "whiten" the population of Argentina? When we, Argentines, quickly clarify that we are descendants of Europeans, would we recognize with equal haste our black roots? What events experienced the disappearance of the black race within our population? What role does the Paraguayan War have in this process?
These and other questions were raised by the artist during his residence in Buenos Aires. The result is an impressive installation in the Polyglot Room where Ayanah reflects on the "blackness" in Argentina – citing both remote and very close events – that raises uncomfortable questions, although they need answers.
Change (by Ayanah Moor)
My work is often born in response to an existing idea. For this residency, I made the decision to digitally alter figurative images to turn them into something new. I wanted to work on the body and its abstraction, specifically the black body and create a new meaning. At first, I didn't know for sure what this new meaning was going to be. Walking through the streets of Buenos Aires, meeting Argentines and reading about the local culture, I was impressed by the small number of black people who live in this country.
In my research, I found multiple debates about the possible reasons why the presence of Argentine descendants of black ancestors is very limited. Some speak of the role of the Triple Alliance War, where many of the front lines of soldiers were black. Others cite mixed-race relationships with European immigrants. Countless historians demonstrate the racial genocide carried out by Argentine governments. Undoubtedly, a combination of several of these factors has led to the dramatic reduction of the "Afro Argentina" community (understood by this black population resulting from slavery during Spanish colonial rule).
This historical complexity made me repeat the abstraction of the black figure as I did at the beginning of my residence in ace, beginning to interpret my changing portraits of blacks differently, also taking into account new cultural terms to refer to the complicated identity argentina: trigueña = olive-colored skin; wheat = wheat (cereal) – colored skin.
This is where I wonder if any Argentine recognizes his Spanish heritage and / or Italian recognizes an African descent. Some texts in this work were found at a quote from former Argentine President Carlos Menem, who asked him during a tour in the United States if Argentina had citizens of African descent. He replied: "No, we do not have blacks in Argentina. Brazil has this problem "(1). Other words in the installation refer to Afro-Argentine María Lamadrid, who in 2001 was delayed by the authorities at Ezeiza International Airport because she was carrying an Argentine passport. "They told me: it can't be your passport. There are no blacks in Argentina "(2). I am intrigued by these claims. I am interested in the marks of otherness and the politics of equality in Argentina. These are some of the concepts investigated in this work.
– – – – – – – – –
[1] Menem's quote is quoted from the 2005 documentary "Afroargentinos" by Diego H. Ceballos. The documentary is an investigation of the history of Afro-Argentines in Buenos Aires.
[2] Ruthie Ackerman, Blacks in Argentina, officially a few, but perhaps a million, Chronic Foreign Service, November 27, 2005.
International Projects, Site Specific
Moving Targets [Bs As]
John Hitchcock
29.02.08
Objetivos Móviles/Moving Targets-Buenos Aires was a co-curatorial project co-organized by the artist John Hitchcock (Director of the Printmaking Department and Associate Professor at the University of Wisconsin-Madison, USA) and the artist Alicia Candiani (Projecto´ace Director) framed in the residence that Hitchcock made with us from February 15th to March the 6th, 2008.
With the institutional support of the Ministry of Culture of the Municipality of Buenos Aires and Metrovías company partnership, Objetivos Móviles/Moving Targets-Buenos Aires results in an urban artistic action involving Colegiales neighborhood and displayed on the Metrovias Trains System in Argentina on Friday February 29, 2008 (a unique day in a leap-year!). The print action took place between the Federico Lacroze Station in the City of Buenos Aires and Fernández Moreno Station in Buenos Aires Province of the railroad Gral. Urquiza. These two stations united Proyecto'ace in Colegiales, Buenos Aires City and Centro de Edición. Directed by Natalia Giachetta, this is a litho workshop and gallery located in Saénz Peña, Buenos Aires Province. A group of 25 Argentine artists lead by John Hitchcock and Alicia Candiani, carried large banner prints through the train cart system. Each banner had several images of North America, South America and Caribbean artists' works. 50 young up and coming artists (25 from South America and 25 from North America) and 50 established artists were invited to participate.
The banners, as large flags, were exhibited in two spaces in Argentina: the Proyecto'ace Studios and the platforms of the General Urquiza Train in front of Centro de Edición in Buenos Aires Province. Later they were exhibited in Pyramid Atlantic Art Center´s Main and Kunst Vault galleries from August 1 – October 3, 2009 in the United States.
ABOUT MOVING TARGETS INTERNATIONAL PROJECT
As a concept, Moving Targets involves presenting the print medium in a specific and meaningful way. It ties to the rich tradition that printmaking serves as a vehicle for expression of discontent and critique.
As an international print project reflecting social concerns moving via public transportation across borders, it aims to address on how public transport can become a means of cultural dissemination while emphasizing the historical tradition of graphics as a democratic vehicle for the communication of ideas.
The first action-exhibition was originally presented as Cultural Transport / Moving Target on a train between Berlin (Germany) and Poznan (Poland), co-organized by Keith Christensen and John Hitchcock within the framework of IMPACT IV in Germany.  The title Moving Targets, expresses the difficulty in stopping something (shooting down–in military terms) that exists when trying to stop something or destroy it when it is in movement. The project uses trains, means of public transport, to disseminate cultural actions, thus the vehicle is literally the means of expression. Under the metaphor of what is in motion cannot be shot down, actions have been planned on the trains with printed works, also referring to the capacity of prints as agents that promotes reflection and change.
---
Emerging Argentine artists participating in the performatic action |Buenos Aires Daniela Karol, Magdalena Arnaud, Lucía Miranda, María Julieta Arnaut, Félix Torrez, Carolina Sosa, Josefina Zuain, Federico Signorelli, Juan Natch, Sofía Quirno, Fernanda Castelo, Valeria Zamparolo, Ignacio Luis Ravazzoli, Nicolás Monti, Isabel Gruppo | Córdoba Sergio David Alvarez, Gisele Rodriguez Polich, Maximiliano de los Ríos, Lucia Mendez, Ana Belen Saldias Lopez, Mariana Pavan, Iván Vianello, Micaela Damico Bossio | Santa Fé Javier Cazenave | Tucumán Martín De Negro.
---
Objetivos Móviles / Moving Targets
A John Hitchcock´s original project
Co-organized and co-curated by Alicia Candiani
in partnership with Centro de Edición Taller Galería
Director Natalia Giachetta
Selected and invited artists
NORTH AMERICA | Kim Ambriz, Plinio Avila, Michael Barnes, Marwin Begaye, Lisa Bulawsky, Keith Christensen, Justin Diggle, Timothy Dooley, David DuBose, Wanda Ewing, Bill Fick, Jill Fitterer, Ruthann Godollei, John Hancock, Dusty Herbig, Mike Houston, Hybrid Press/202c (Hitchcock & Busich), Drew Iwaniw, Anita Jung, Angela Lopez, John Lysak, Barb Madsen, Justin Maes, Nichole Maury, Phyllis McGibbon, Dylan McManus, Dennis McNett, Anna Moisiadis, Traci Molloy, Ayanah Moor, Johanna Mueller, Ashley Nason, Meghan O´Connor, Nancy Palmeri, Miguel A. Pena, David Raine, Curt Readel, Kathryn J Reeves, Derrick Riley, Jason Ruhl and Amy Newell, Humberto Saenz, Jenny Schmid, Neal Ambrose-Smith, Satan's Camero, David & Kassie Teng, Daryl Vocat, Heather White, Aaron Wilson, Melanie Yazzie, Imin Yeh.
SOUTH AMERICA AND THE CARIBBEAN | Sergio David Alvarez, Magdalena Arnaud, María Julieta Arnaut, Romina Biglieri, Silvana Blasbalg, Sergio Blatto, María Bonomi, Silvia Brewda, Juan Canavesi, Alicia Candiani, Rimer Cardillo, Fernanda Castelo, Hugo Cava, Javier Cazenave, Mariela Constant, Micaela D´amico Bossio, Maximiliano De los Ríos, Martín De Negro, Sebastián García Huidobro, Isabel Gruppo, Daniela Karol, Ana María McCarthy, Lucía Mendez, Patricia Miani, Ricardo Migliorisi, Lucía Miranda, Nicolás Monti, Adriana Moracci, Juan Natch, Mari Mater O´Neil, Néstor Otero, Mariana Pavan, Sofía Quirno, Ángel Ramírez, Ignacio Luis Ravazzoli, Rafael Rivera Rosa, Gisele Rodriquez Polich, Ana Belén Saldías López, María Mercedes Salgado, Carolina Salinas, Garvin Sierra, Federico Signorelli, Carolina Sosa, Félix Torrez, Rafael Trelles, Julio Valdez, Ivan Vianello, Patricia Villalobos Echeverría, Valeria Zamparolo, Josefina Zuain.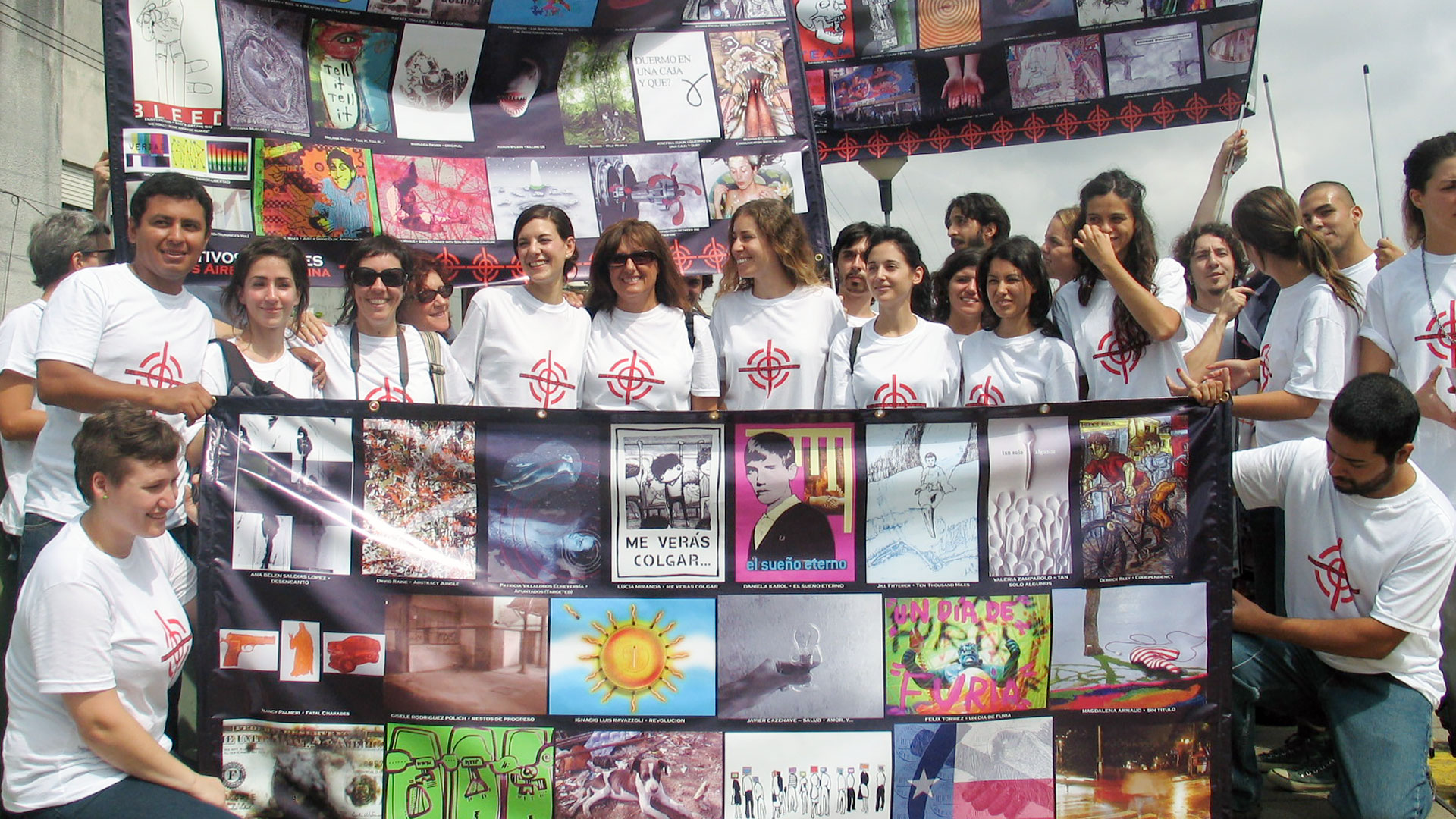 Exhibitions
Traces & Gestures
Colectivo/Group
20.09.13 23.02.14
As part of the activities organized for the International Project 150[cicles] (that takes place from September 20th, 2013 to February 23rd, 2014), the Traces & Gestures Portfolio was exhibited at the Dialogue Space and Central Hall.
This portfolio gathered a group of artists from the US and abroad who freely explored the title of the portfolio and made reference to location/site(s), translations, cultural dialogues and the traces that these may leave upon an individual and those that the individual leaves behind.  Globally, the use of zines, stencil graffiti, social media and other print traces has had a rising impact in the current discourse about the free dissemination of ideas.  What may seem a fleeting gesture can reverberate to have a lasting impact, whether on a global or personal scale.
The portfolio was organized by artist Patricia Villalobos Echeverria and Nichole Maury an was exhibited for first time at the Greymatter Gallery, Suite 222 in Milwaukee, USA as a part of the exhibitions related with the international conference PRINT:MKE held by the University of Milwaukee and the Milwaukee Institute of Art and Design in March 2013.
---
ORGANIZERS
Patricia Villalobos
Nichole Maury
INVITED ARTISTS
Kim Ambriz | Alicia Candiani | Nayda Collazo-Llorens | Jean Dibble, Rodney Ewing | Robert Glasgow | Tom Howes | | Cara Jaye | Anita Jung | Kent Kapplinger | Martyna Matusiak | Nichole Maury | Ayanah Moor | Danielle Rante | Miguel Angel Rivera | | Claudia Sbrissa | Sergio Soave | Patricia Villalobos Echeverría | Melanie Yazzie
---
OTHERS VENUES:
December 1-14 | 2013
King Family Exhibition Case, Visual Art Center, Boulder, Colorado, USA.
February 20 | April 17 | 2014.
Kerr Gallery, Richmond Center for the Visual Arts, Western Michigan University, Kalamazoo, Michigan, USA.
Exhibitions
Territories
Group exhibition ´ace Collection
23.02.15 30.04.15
Territories is an exhibition curated by Adriana Moracci among artworks from the 'ace collection. The aims of this selection is to allow us to reflect upon political, economic, linguistic and corporal territories. They have been interpreted by contemporary artists through photography, performance and printmaking.
ABOUT TERRITORIES (by Adriana Moracci
Territory is a defined, outlined and demarcated place that provides belonging and identity to whom occupy it. In some cases it is a place to access or emigrate. The territory notion goes beyond a determined border. Although the etymology of the word indicates land or field not every community has its own physical territory, but yes, all have their own idiosyncrasy, language and culture that unites and links. The body is also a territory, one that is always present and constantly changing. A territory that contains and links us with the other, through verbal and corporal language. A territory that enables encounter with the ancestral and the primary.