Philippines
Emmanuel Santos
A second-rate planet
29.07.12 17.08.12
During Emmanuel Santo's visit to Buenos Aires in order to present his series Sandugo: a blood pact (Teatro de la Rivera) and Danzas Sagradas (Fundación'ace) as official exhibitions of the XVII Open Encounters / Festival of Light, he will also be completing a residency within the 'acePIRAR Program during the month of August.
Santos is a documentary and artistic photographer based in Australia. Actually curator of Art Gallery Obscura. Melbourne, he has made several trips creating photographic essays about tribal traditions, highlighting the universality of human existence. In the past three decades most of his work has focused on Judaism, the Greek Diaspora, and ancient cultures. His work deals with the subject of nomadic portraits, visual interpretations of ancient myths and legends and the continuous evolution.
During his residency, the artist will carry out a photographic exploration of the impact of modernization and colonization on a society through a common protagonist who is dressed in a spatial trajectory.
ARTIST'S TESTIMONY
The project consists of humanity's concern towards the rapid degradation of the environment and natural resources as a result of the modern way of life and the evolution of society towards industrialization and globalization.
The project was conceived with the aim of increasing awareness of the moral values ​​of modern society and its intense emphasis on materialism that creates a huge disparity between the rich and the poor, urban areas and rural people and between privileged and excluded.
Buenos Aires is one of the selected locations, among other places around the world, due to its history of colonization, migration, and rapid industrialization.
BIO
Emmanuel Santos
1957 | Philippines.
EXHIBITIONS
2011 | Observances. Patiño Cultural Center. Santa Cruz, Bolivia.
2010 | Observances. Recoleta Cultural Center. Buenos Aires, Argentina.
2009 | The Book of Enlightenment. Silverlens Gallery. Manila, Philippines.
2008 | The passage of light. Primo Marella Gallery. Milano, Italy.
2007 | The passage of light. Silverlens Gallery. Manila, Philippines.
2006 | The passage of light. Monash Art Gallery. Australia.
2005 | Observances, Cultural Center of Federal Justice. Rio de Janeiro Brazil.
COLLECTIONS
National Gallery of Victoria, the National Library and the Australian Jewish Museum; the Museum of Jewish Art and History in Paris, the National Library of France and the Beth Hatefutsoth Museum in Israel. Santos has been selected by private, public and commercial institutions to produce various photographic projects and publications.
Related Activities
Exhibitions
Sacred dances
Emmanuel Santos
07.08.12 21.09.12
During August and September we presented the exhibition Sacred Dances, produced by the Australian photographer Emmanuel Santos (Born in Philippines). He will be completing a residency within the ´acePIRAR program (International Program of Artistic Residences) during the month of August, producing a series of new photographs in Buenos Aires.
SACRED DANCES (by Alicia Candiani)
In the vast series Sacred Dances -which the artist exhibited in the Sala Políglota of the ´ace house- the humanitarian and universal attitude with which Santos has witnessed and captured (and has been allowed to do) a sacred ceremony of the Aurukun community from Cape York, Queensland in Australia is clearly manifested.
"Without dreams of hope, dignity and pride, Humanity vanishes" says one of the songs of this ceremony that expresses the deep and diverse wealth of a culture that flourished for more than 50,000 years. The Aukurum suffered continual desecration through carelessness and insensitivity in today's world. However, in their own way, they survived, and their sacred dances express their ancient wisdom and passion for protecting and preserving it.
ARTIST'S TESTIMONY
Aboriginal genesis.
"Without dreams of hope, dignity and pride, humanity fades away …"
This phrase from a song by Australian Aborigines expresses the eternal richness of a culture that flourished for over 50,000 years. This culture, deep and diverse culture has suffered a continuous desecration through carelessness and lack of sensitivity of the current world … however, in their own way, they survived.
Their sacred dances allow us, from our time, to penetrate through a resonance in a dreamed time, a dim light in the darkness that the tribe preserves. It is one of the aspects of their ancient wisdom that they protect and bring to the present in ways that our world can understand and respect.
I am honored to have witnessed these universal rites of life and to have been able to photograph a mere glimpse of them, in order to share with you this experience and in certain way, promote greater awareness for the good of humanity.
´aceNITE, Encounters, Exhibitions
The Passion
XVII Open Get Togethers - Festival of Light
07.08.12
Fundación ´ace para el Arte Contemporáneo has been invited to join the XVII Open Get Togethers – Festival of Light 2012. Under the theme of The Passion the 2012 edition of this event underscores a vast topic that allows a vast visual exploration as it evokes the image of love, obsession, fanaticism, or even of pure madness and is one of the most intense human beings emotions.
Curated by Alicia Candiani, the Foundation together with ´acePIRAR (International Artisti-in- Residence Program) presented four exhibitions that highlight the theme of Passion from various perspectives and affinities, among them, two images taken by photographers who are also displaying their work at the biennial official selection.
Sacred Dances by Emmanuel Santos (Australia), Official Selection, sponsored by the Embassy of Australia. Políglota Hall.
And the  associate exhibitions:
By the Force of Blood by Erika Diettes (Colombia).
No Expiration Date by César Damián (Mexico).
The Passion According to Jiménez by Micaela Trocello (Cordoba, Argentina).
Organized as a visual counterpoint theme, the exhibition Sacred Dances by Emmanuel Santos (exhibition in the official selection with Sandugo: a Pact of Blood)  will be in dialogue with The Passion According to Jiménez by the young artist Micaela Trocello. Both bodies of work focus on the theme of dance and dancing in segregated communities and social groups: while Santos captures a sacred ceremony in the  Aurukun community in Australia, and its passion for the preservation of its spirit and traditions, Trocello´s photographs investigate the passion in the lyrics of Cordoba`s cuartetos and the representation of women through them.
Meanwhile, in the Central Hall and in the Mezzanine, Erika Diettes of Colombia (artist invited to the festival's official selection with Shrouds) will set By the Force of Blood another dialogue with the installation No Expiration Date by the Mexican artist César Damián. Both photographers work poetically with water (which carries  things and makes everything clean) and the memory of the disappeared in Colombia and Argentina, representing the Passion in a direction of intense suffering.
ABOUT XVII Open Get Togethers -Festival of Light 2012
Held biannually in museums, cultural centers and art venues through Argentina, the Light Festival (Festival de la Luz) presents exhibitions by national and international artists working in the medium of photography. The event also serves as an international meeting place for photographers, curators, critics, collectors and directors interested in the role of the photographic image as a means of artistic, cultural and social relevance.
Argentina's Light Festival is part of a collaboration of 27 festivals on five continents, in Aleppo, Atlanta, Ballarat, Bamako, Braga, Brasilia, Bratislava, Buenos Aires, Derby, Cracovia, Houston, Kaunas, Lodz, Luxemburgo I, Luxemburgo II, México, Montreal, Moscú, Odense, Paris, Portland, Porto Alegre, Tampere, Tenerife, Thessaloniki and Toronto.
We thank Pato Parodi for the photos of the 'aceNITE event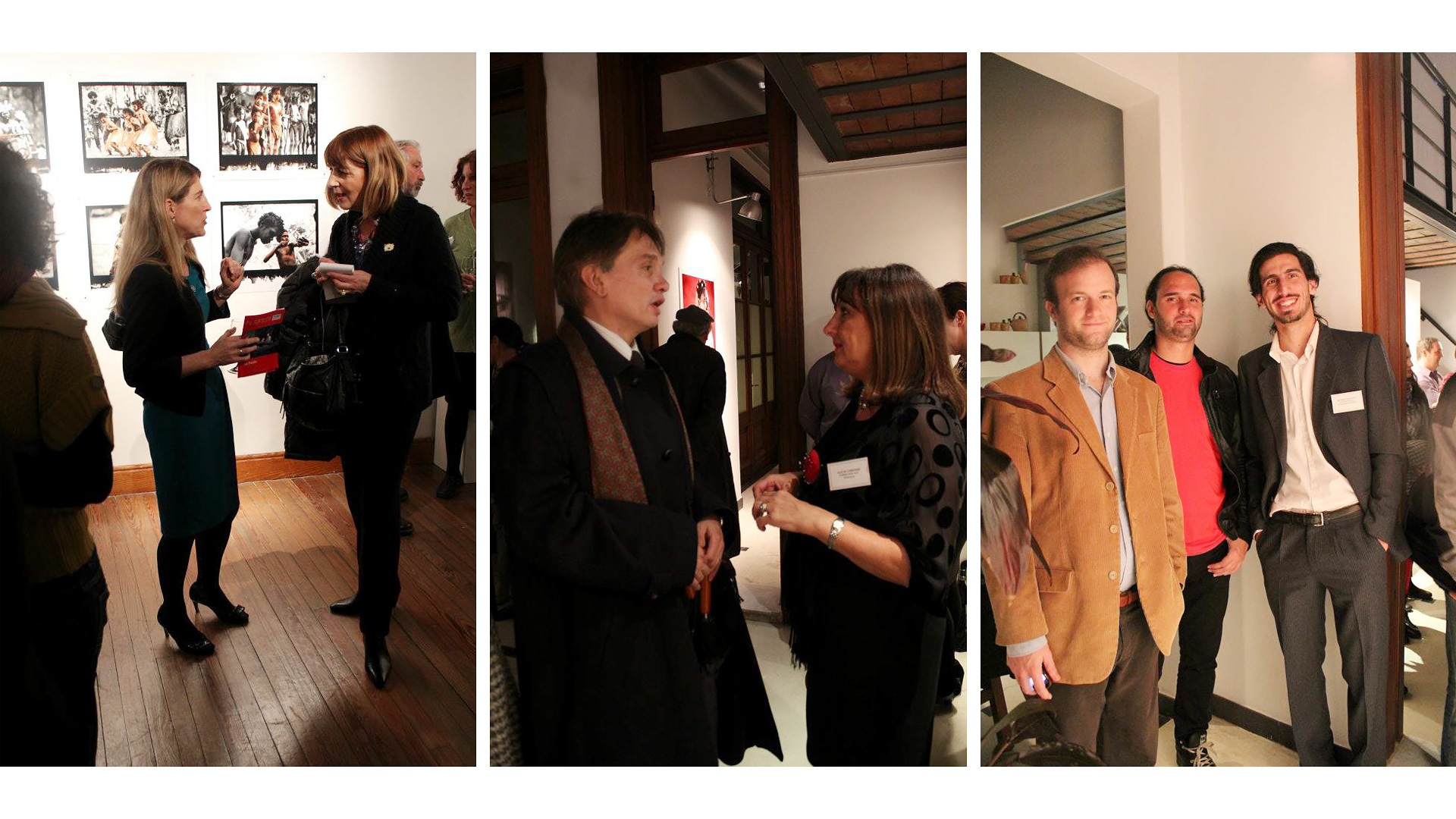 Exhibitions
Territories
Group exhibition ´ace Collection
23.02.15 30.04.15
Territories is an exhibition curated by Adriana Moracci among artworks from the 'ace collection. The aims of this selection is to allow us to reflect upon political, economic, linguistic and corporal territories. They have been interpreted by contemporary artists through photography, performance and printmaking.
ABOUT TERRITORIES (by Adriana Moracci
Territory is a defined, outlined and demarcated place that provides belonging and identity to whom occupy it. In some cases it is a place to access or emigrate. The territory notion goes beyond a determined border. Although the etymology of the word indicates land or field not every community has its own physical territory, but yes, all have their own idiosyncrasy, language and culture that unites and links. The body is also a territory, one that is always present and constantly changing. A territory that contains and links us with the other, through verbal and corporal language. A territory that enables encounter with the ancestral and the primary.