Puerto Rico
Garvin Sierra
Author-portrait Circus
02.08.10 22.08.10
Garvin Sierra carried out an investigation into the circus world of Buenos Aires during his production Circus author-portrait.
The play on words author-portrait alludes both to his role as an artist and photographer, and to the role of circus artists who create a character where the boundaries between personal and artistic life seem to blur.
During the project, he carried out a series of interviews and meetings in circuses during which he took a photographic and video record to capture the double identity of his workers in their artistic role and outside of it.
During his exploration, he became interested in getting to know the circus environment deeply, as well as the great variety of cultural offerings characteristic of the city of Buenos Aires.
BIO
Garvin Sierra
1977 | Ponce, Puerto Rico.
Lives and works in Puerto Rico.
STUDIES
2000 | Bachelor of Plastic Arts, Sculpture and Graphics Specialization. University of Puerto Rico.
EXHIBITIONS
2009 | National Sample Institute of Puerto Rican Culture. Puerto Rico.
2008 | Mobile objectives / cultural transport, Ace Project. Buenos Aires, Argentina.
2007 | Institute of Puerto Rican Culture. Puerto Rico.
May God pay you, Institute of Puerto Rican Culture, San Juan. Puerto Rico.
2005 | "Training", City Gallery. Ljubljana, Slovenia.
BIENNIALS
2008 | Poster Biennial, Mexico.
AWARDS
2009 | Honorable mention. Young Art Contest, Oriental Group, San Juan, Puerto Rico.
2005 | Big prize. Collective Puerto Rican artists, 26th International Biennial of Graphic Arts. Ljubljana, Slovenia.
2003 | First prize in design. Bombay Sapphire Cup, Bacardi. Cataño, Puerto Rico.
Related Activities
Exhibitions
Author-Circus
Garvin Sierra
02.08.10 20.08.10
In the Polyglot Hall, a series of photographs that are part of the Autor-Circense Project were exhibited together with a video projected in the Central Hall that reflects the double identity of the members of the circus, in their role as characters and outside of it.
We thank all the members of the circus world who participated in the project and who came to 'ace the night of the inauguration to accompany Garvin Sierra while performing various performances as part of the closing activities.
AUTHOR-PORTRAIT CIRCUS  (by Garvin Sierra)
Author-portrait Circus explores the life behind the scenes of the members of the circus. The autobiographical content of the body of work was displayed through images of acrobats, contortionists, escapists, tightrope walkers, bullet men, magicians, jugglers, mentalists, puppeteers, fire eaters and trapeze artists, among other characters.
The experience of the circus, regularly associated with playfulness, acquires a new meaning when we penetrate the first impression we have of these characters and glimpse the reality behind their acts, costumes, masks … We discover how ephemeral happiness and meaning can be permanent death through the risky practices in which these characters are involved.
International Projects, Site Specific
Moving Targets [Bs As]
John Hitchcock
29.02.08
Objetivos Móviles/Moving Targets-Buenos Aires was a co-curatorial project co-organized by the artist John Hitchcock (Director of the Printmaking Department and Associate Professor at the University of Wisconsin-Madison, USA) and the artist Alicia Candiani (Projecto´ace Director) framed in the residence that Hitchcock made with us from February 15th to March the 6th, 2008.
With the institutional support of the Ministry of Culture of the Municipality of Buenos Aires and Metrovías company partnership, Objetivos Móviles/Moving Targets-Buenos Aires results in an urban artistic action involving Colegiales neighborhood and displayed on the Metrovias Trains System in Argentina on Friday February 29, 2008 (a unique day in a leap-year!). The print action took place between the Federico Lacroze Station in the City of Buenos Aires and Fernández Moreno Station in Buenos Aires Province of the railroad Gral. Urquiza. These two stations united Proyecto'ace in Colegiales, Buenos Aires City and Centro de Edición. Directed by Natalia Giachetta, this is a litho workshop and gallery located in Saénz Peña, Buenos Aires Province. A group of 25 Argentine artists lead by John Hitchcock and Alicia Candiani, carried large banner prints through the train cart system. Each banner had several images of North America, South America and Caribbean artists' works. 50 young up and coming artists (25 from South America and 25 from North America) and 50 established artists were invited to participate.
The banners, as large flags, were exhibited in two spaces in Argentina: the Proyecto'ace Studios and the platforms of the General Urquiza Train in front of Centro de Edición in Buenos Aires Province. Later they were exhibited in Pyramid Atlantic Art Center´s Main and Kunst Vault galleries from August 1 – October 3, 2009 in the United States.
ABOUT MOVING TARGETS INTERNATIONAL PROJECT
As a concept, Moving Targets involves presenting the print medium in a specific and meaningful way. It ties to the rich tradition that printmaking serves as a vehicle for expression of discontent and critique.
As an international print project reflecting social concerns moving via public transportation across borders, it aims to address on how public transport can become a means of cultural dissemination while emphasizing the historical tradition of graphics as a democratic vehicle for the communication of ideas.
The first action-exhibition was originally presented as Cultural Transport / Moving Target on a train between Berlin (Germany) and Poznan (Poland), co-organized by Keith Christensen and John Hitchcock within the framework of IMPACT IV in Germany.  The title Moving Targets, expresses the difficulty in stopping something (shooting down–in military terms) that exists when trying to stop something or destroy it when it is in movement. The project uses trains, means of public transport, to disseminate cultural actions, thus the vehicle is literally the means of expression. Under the metaphor of what is in motion cannot be shot down, actions have been planned on the trains with printed works, also referring to the capacity of prints as agents that promotes reflection and change.
---
Emerging Argentine artists participating in the performatic action |Buenos Aires Daniela Karol, Magdalena Arnaud, Lucía Miranda, María Julieta Arnaut, Félix Torrez, Carolina Sosa, Josefina Zuain, Federico Signorelli, Juan Natch, Sofía Quirno, Fernanda Castelo, Valeria Zamparolo, Ignacio Luis Ravazzoli, Nicolás Monti, Isabel Gruppo | Córdoba Sergio David Alvarez, Gisele Rodriguez Polich, Maximiliano de los Ríos, Lucia Mendez, Ana Belen Saldias Lopez, Mariana Pavan, Iván Vianello, Micaela Damico Bossio | Santa Fé Javier Cazenave | Tucumán Martín De Negro.
---
Objetivos Móviles / Moving Targets
A John Hitchcock´s original project
Co-organized and co-curated by Alicia Candiani
in partnership with Centro de Edición Taller Galería
Director Natalia Giachetta
Selected and invited artists
NORTH AMERICA | Kim Ambriz, Plinio Avila, Michael Barnes, Marwin Begaye, Lisa Bulawsky, Keith Christensen, Justin Diggle, Timothy Dooley, David DuBose, Wanda Ewing, Bill Fick, Jill Fitterer, Ruthann Godollei, John Hancock, Dusty Herbig, Mike Houston, Hybrid Press/202c (Hitchcock & Busich), Drew Iwaniw, Anita Jung, Angela Lopez, John Lysak, Barb Madsen, Justin Maes, Nichole Maury, Phyllis McGibbon, Dylan McManus, Dennis McNett, Anna Moisiadis, Traci Molloy, Ayanah Moor, Johanna Mueller, Ashley Nason, Meghan O´Connor, Nancy Palmeri, Miguel A. Pena, David Raine, Curt Readel, Kathryn J Reeves, Derrick Riley, Jason Ruhl and Amy Newell, Humberto Saenz, Jenny Schmid, Neal Ambrose-Smith, Satan's Camero, David & Kassie Teng, Daryl Vocat, Heather White, Aaron Wilson, Melanie Yazzie, Imin Yeh.
SOUTH AMERICA AND THE CARIBBEAN | Sergio David Alvarez, Magdalena Arnaud, María Julieta Arnaut, Romina Biglieri, Silvana Blasbalg, Sergio Blatto, María Bonomi, Silvia Brewda, Juan Canavesi, Alicia Candiani, Rimer Cardillo, Fernanda Castelo, Hugo Cava, Javier Cazenave, Mariela Constant, Micaela D´amico Bossio, Maximiliano De los Ríos, Martín De Negro, Sebastián García Huidobro, Isabel Gruppo, Daniela Karol, Ana María McCarthy, Lucía Mendez, Patricia Miani, Ricardo Migliorisi, Lucía Miranda, Nicolás Monti, Adriana Moracci, Juan Natch, Mari Mater O´Neil, Néstor Otero, Mariana Pavan, Sofía Quirno, Ángel Ramírez, Ignacio Luis Ravazzoli, Rafael Rivera Rosa, Gisele Rodriquez Polich, Ana Belén Saldías López, María Mercedes Salgado, Carolina Salinas, Garvin Sierra, Federico Signorelli, Carolina Sosa, Félix Torrez, Rafael Trelles, Julio Valdez, Ivan Vianello, Patricia Villalobos Echeverría, Valeria Zamparolo, Josefina Zuain.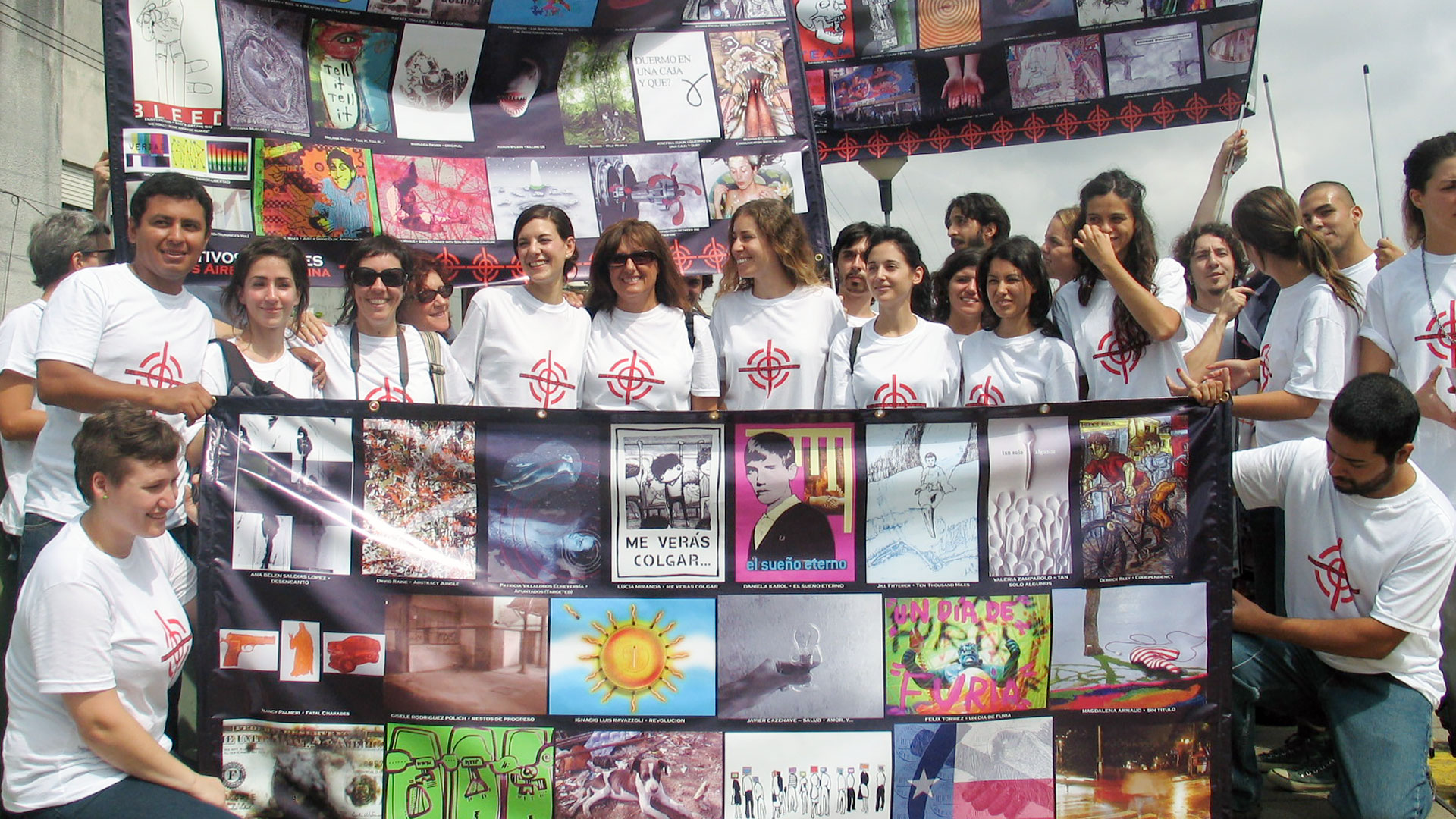 ´aceNITE, Exhibitions
´ace Nite Opening
Newman - Sierra
18.08.10
On Wednesday August 18, 2010 were exhibited the projects realized by the artists in residence: Chris Newman presented La cara terrestre: Argentina at the Políglota Room and Garvin Sierra show Autor-retrato circense in the Central Hall.
In addition, at the Transverse Space & Mezzanine was exhibited the  work of the artists participating in the MONOTHON 2009-10. To the surprise of all the public the clowns Pate, Perilla & Lupita made funny interventions and Miguel Masllorens delighted all the presents with his original light objects and movements.
About ´aceNite
Is an event that occurs periodically, on Wednesdays from 7pm to 10pm. During these time ´ace opens its doors and exhibition spaces to the community to show projects made by the artists in residence as exhibitions, installations and audiovisual presentations, art works of Argentine and Latin American artists selected in a free way through Fusionarte Contemporaneo, present books, art critics, hold performances (or do everything together!).