Canada
Guy Langevin
FIG Bilbao 2020
26.11.20 14.12.20
Fundación´ace para el Arte Contemporáneo is pleased to introduce Guy Langevin,  invited artist to ´ace representation at FIGBilbao 2020 , International Printmaking and Art on Paper Festival in the beautiful city of Bilbao, Spain from November 26th to December 14, 2020.
---
Graduated from Université du Québec à Trois-Rivières in 1977, Guy Langevin have made more than 60 solo exhibitions in Quebec, Canada, U.S.A., France, Belgium, Portugal and Germany. He has participated to more than 300 group exhibitions, throughout the world, including approximately 80 international biennials or juried exhibitions. Mainly known for his work in mezzotint, he received several awards and gives masterclasses of mezzotint in many countries.
His work is based on duality between fugitiveness of light and moment, and the perennially of impressions people, situations and events make in our mind. As this duality, the work rocks between precision and blurry images. Haziness may be, sometimes, the more accurate way to express an idea. When the work speaks about human, or through the human image, it is important to have many level of reading. In my mind, that shows the complexity of life.
Deeply involved in his cultural milieu, at the end of the 70's, he participated to the creation of Atelier Presse Papier, a collective professional printmaking studio, in 1984-85, he was president of the Quebec Printmakers' association, and he is one of the founders of the Biennale internationale d'estampe contemporaine de Trois-Rivières. His experience is often required for juries, councils and curating.
BIO
Guy Langevin
1954 | Chicoutimi, Canada
Lives  and works in Trois-Rivières , Quebec, Canada
STUDIES
1977 | Bachellor of Fine Arts, Quebec University, Trois-Rivieres, Canada
EXHIBITIONS
2020 | Skin, National Exhibition Centre, Saguenay, Canada
2020 | Falling Angels, Shifte Hammam, Skopje, Macedonia
2019 | Body metamorphosis, Yekateriniburg Fine Arts Museum, Russia
2020 | 6th Intaglio Printmaking Exhibition, Shanghai, China
2019 | Limit States, 1700 LaPoste, Montreal, Canada
AWARDS
2019 | Curator's Award, Ural Print Bienniale, Oufa, Russia
2019 | First Prize, Kaunas International Printmaking Biennial, Latvia 2017 | First Prize, Rosario International Miniprint, Argentina
2015 | Award for contribution to printmaking, Splitgrafic, Croatia
2013 | Award for originality and breaking boundaries of technique, International Mezzotint Festival, Yekaterinburg, Russia
Related Activities
International Projects, Fairs
FIG Bilbao 2020
Artists in dialogue
26.11.20 14.12.20
After the landing of ´ace at FIG Bilbao2019, with Argentina as the guest country and the will of both organizations to expand their international networks, we have signed a collaboration agreement between both institutions: FIG BILBAO and Fundación´ace. Alicia Candiani, director of ´ace, becomes part of the Management Committee of Open Latin America with the aim of giving mobility to artists and their works on an international level. Also, this year we have once again been invited to participate in the fair, for which a prestigious group of international professional artists has been selected.
---
The International Fair of Printmaking and Art on Paper (FIG Bilbao) has positioned itself as one of the most important in Europe. This year, FIG Bilbao celebrates its 9th edition and, although it cannot aspire to attract more than 11,000 visitors in four days as happened last year, it has not hesitated to reinvent itself in an online format and, furthermore, it does not neglect face-to-face proposals insofar as their possibilities. Today the digital platform www.figonlinefair.com will premiere, offering 50 galleries and more than 500 artists that will be active throughout the month of December.
The works cover a wide range of prices and visitors will be able to enjoy the free and personalized advice of expert Elisa Hernando, who is in charge of the Approach online service. Among the creators present in this edition, it will also be possible to pledge on emerging talents such as Juan Escudero and Kepa Garraza, or already established such as Joan Miró and Eduardo Chillida.
Three containers have been installed next to the Bilbao Fine Arts Museum. Inside, all the works from the fair catalog will be projected on led screens that will change their content every 15 minutes. Until December 14 (from 11 a.m. to 2 p.m. and from 5 p.m. to 8 p.m.) they will be available to passersby. These are spaces that fulfill the function of the stands of FIG Bilbao, adapted to the restrictions imposed by the pandemic, and are complemented by the QR codes of each gallery that will allow access to the digital platform.
REPRESENTED ARTISTS
Alicja Habsiak-Matczak (Poland)
Guy Langevin (Canada)
Bárbara Madsen (USA)
Cecilia Mandrile (Argentina, lives in New York)
Kestutis Vasilinius (Lithuania)
Zhang MinJie (China)
Artist-curator
Alicia Candiani (Argentina)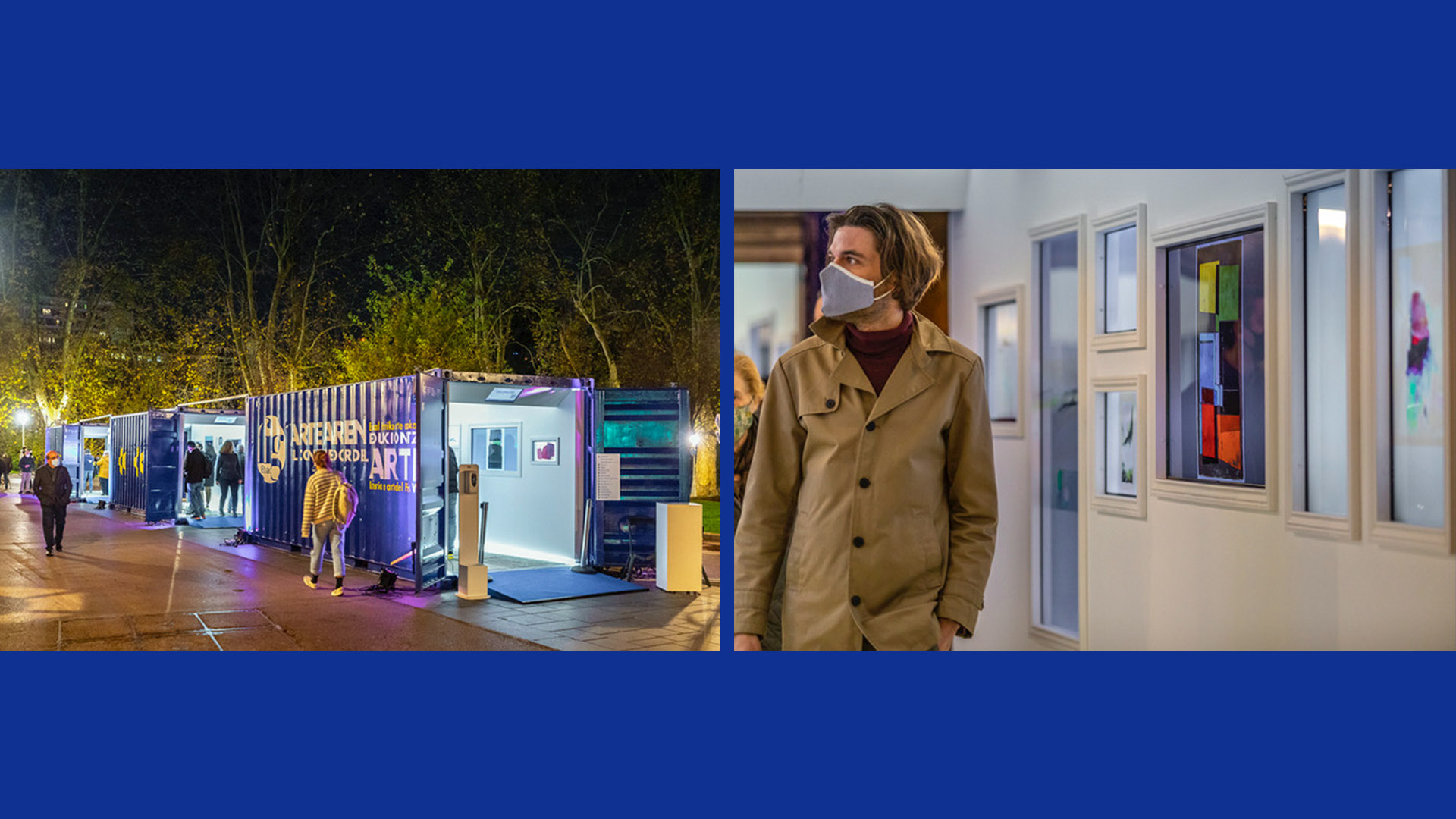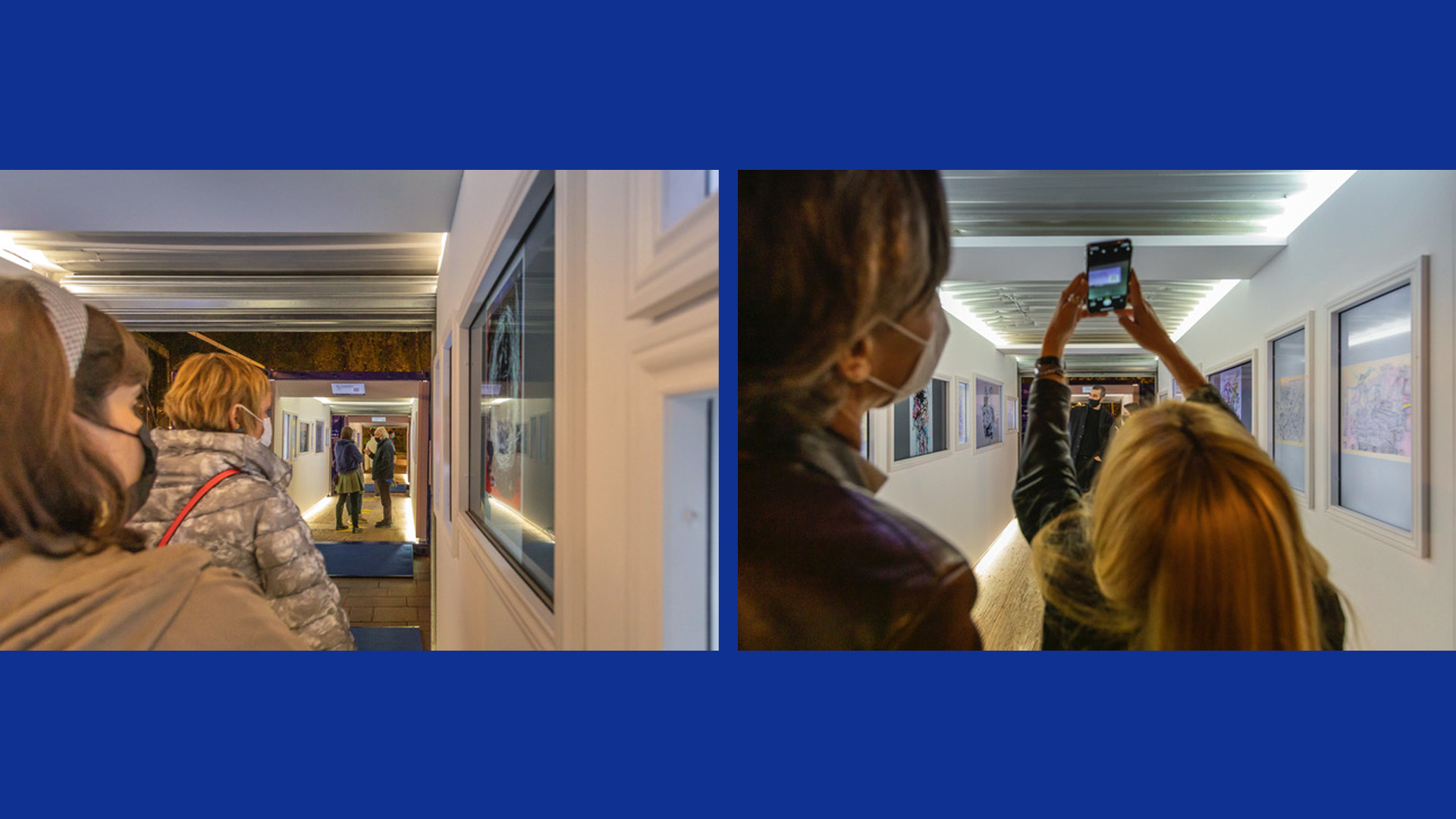 International Projects, Exhibitions
The World IN a Handkerchief
´ace´s genealogy
23.03.22 06.05.22
The World IS a Handkerchief : El mundo es un pañuelo
A Wandering Genealogy curated by Claudia DeMonte & Cecilia Mandrile
The World IN a Handkerchief : El mundo en un pañuelo
Guest Curator, genealogy Proyecto'ace: Alicia Candiani
Exhibition of pieces
selected from the Fundación´ace´s collection and Alicia Candiani's personal collection of the participating artists in "The world IN a handkerchief"
For a month and a half, the Políglota Room is hosting three exhibitions on a rotating basis. From March 23 to April 1, "The world IS a handkerchief" and "The world IN a handkerchief: the genealogy of ´ace" were exhibited simultaneously, paying special tribute to the Argentine artist Graciela Sacco. While the original  series returned to New York from where it will soon travel to England, the 'ace genealogy collection was joined by a new exhibition of  large format pieces of the participating artists, some belonging to the Fundación'ace collection and others to the private collection of Alicia Candiani.
---
The World IS a Handkerchief is a travelling exhibition rooted in the Spanish saying 'el mundo es un pañuelo,' which translates into English as 'this is such a small world'. The project traces serendipitous encounters, moments of discovering personal connections in distant places or unexpected contexts. The project began with the meeting of Claudia DeMonte and Cecilia Mandrile as a mentor and student respectively at the University of Maryland, United States in 1995 and has expanded through an international collaborative network between mentors, students and
peers.
The World IN a Handkerchief is a new chapter of the project, a graphic, soft and traveling portfolio curated by guests artists from the core genealogy. Artist and curator Alicia Candiani, essential mentor of this genealogy, Founder and Director of Proyecto´ace, has been invited to curate this new collection that reflects her close creative family.
ABOUT THE WORLD IN A HANDKERCHIEF  by  Cecilia Mandrile
Handkerchiefs have accompanied people in celebrations and farewells in many cultures for centuries, offered bodily protection and coverage, and sustained expressions of political tenets and spiritual beliefs. In this project, handkerchiefs become vessels of memories and itinerant narratives; containers of emotions; translators of wounds, signals of ideological resistance. Each piece epitomizes a soft space that holds disappearing recollections of homeland as well as reflections on displacement and identity that can be carried as a tangible memento. In times when touch appears as a dangerous sense, every single printed handkerchief means a meaningful testament of the continuous nurturing mentorship among artists and educators, reminding us that the soft touch remains both an intimate and universal need of communication.
---
To celebrate this constant and sustained creative dialogue, in 2019 the curators developed a portable exhibition of 50 handkerchiefs that explored the meaning of belonging and interconnectedness that this Spanish saying so tangibly evokes. In the reconstruction of this alternative family made up of artists and collectives from different latitudes and generations during the last two decades, both printed an edition of 25 handkerchiefs, and sent a printed handkerchief along with a blank handkerchief to 50 invited artists to intervene with their own reflections
on home, identity and belonging. From this exchange a "wandering genealogy" was born, a tribute to the strong threads that have woven this shared territory as itinerant artists and educators.
A limited edition catalogue including the work of 50 invited artists was published by Impact Press, Bristol, UK and includes an essay by Gill Saunders, Senior Curator of Prints, Victoria & Albert Museum, London. Currently, the catalogs of workshops and portfolios remain as digital publications, thus allowing to document the constant growth of this genealogy. Chris Knollmeyer, a sound artist in residence at ´ace at the same time, composed for this exhibition a special piece: "Sound of the Handkerchiefs". The piece is a piano study made up of 25 melodies. Just as the handkerchiefs are tied to each artist's history and sense of home, Chris feels a connection to the piano.