United States of America
Chris Knollmeyer
Soundtrack for Microphones and Electronics
02.03.22 25.03.22
Chris Knollmeyer is a composer and sound artist originally from Massachusetts, USA. He has been living and working in Brooklyn since graduating from California Institute of the Arts with a Bachelor's degree in Music Technology in 2015. His work focuses on blending sampled sounds from his environment and synthesized sounds made with custom software.
Chris has been writing music for 15 years—which, considering his young age, is quite a lot. He graduated with a degree in Music Technology and Digital Arts and spent much of his time in California writing electronic music for video and dance, or writing music for orchestras or small ensembles. Then he moved to New York City, where he works developing synthesizers and video synthesizers. Along with his technical work, he creates music for himself and others. Chris released three albums and has written soundtracks for short films. One of his recent scores was for The Heaping Kind, a short film by Caitlin Adams that has been accepted to the Berlin Independent Film Festival.
While at ´ace, Chris recorded sounds from around the city, focusing on the often overlooked or tuned-out sounds. These sounds include wind in trees, garage alarms, elevators, birds, sidewalk imperfections, and whatever can be heard out the window. With these recordings, he composed music using digital synthesizers, microphones, and homemade software. The sounds are transformed into arrangements that reflect Chris' personal soundtrack of Buenos Aires. The result is a body of work entitled Music For Microphones And Electronics. The style of the work ranges from ambient, to more immediate rhythmic music, to noise music. An accompanying video demonstrates how the music was made, documenting field recordings and studio techniques. Chris continues this approach to music composition and builds on the ideas started at ´ace in his work in Brooklyn.
Related Activities
International Projects, Exhibitions
The World IN a Handkerchief
´ace´s genealogy
23.03.22 06.05.22
The World IS a Handkerchief : El mundo es un pañuelo
A Wandering Genealogy curated by Claudia DeMonte & Cecilia Mandrile
The World IN a Handkerchief : El mundo en un pañuelo
Guest Curator, genealogy Proyecto'ace: Alicia Candiani
Exhibition of pieces
selected from the Fundación´ace´s collection and Alicia Candiani's personal collection of the participating artists in "The world IN a handkerchief"
For a month and a half, the Políglota Room is hosting three exhibitions on a rotating basis. From March 23 to April 1, "The world IS a handkerchief" and "The world IN a handkerchief: the genealogy of ´ace" were exhibited simultaneously, paying special tribute to the Argentine artist Graciela Sacco. While the original  series returned to New York from where it will soon travel to England, the 'ace genealogy collection was joined by a new exhibition of  large format pieces of the participating artists, some belonging to the Fundación'ace collection and others to the private collection of Alicia Candiani.
---
The World IS a Handkerchief is a travelling exhibition rooted in the Spanish saying 'el mundo es un pañuelo,' which translates into English as 'this is such a small world'. The project traces serendipitous encounters, moments of discovering personal connections in distant places or unexpected contexts. The project began with the meeting of Claudia DeMonte and Cecilia Mandrile as a mentor and student respectively at the University of Maryland, United States in 1995 and has expanded through an international collaborative network between mentors, students and
peers.
The World IN a Handkerchief is a new chapter of the project, a graphic, soft and traveling portfolio curated by guests artists from the core genealogy. Artist and curator Alicia Candiani, essential mentor of this genealogy, Founder and Director of Proyecto´ace, has been invited to curate this new collection that reflects her close creative family.
ABOUT THE WORLD IN A HANDKERCHIEF  by  Cecilia Mandrile
Handkerchiefs have accompanied people in celebrations and farewells in many cultures for centuries, offered bodily protection and coverage, and sustained expressions of political tenets and spiritual beliefs. In this project, handkerchiefs become vessels of memories and itinerant narratives; containers of emotions; translators of wounds, signals of ideological resistance. Each piece epitomizes a soft space that holds disappearing recollections of homeland as well as reflections on displacement and identity that can be carried as a tangible memento. In times when touch appears as a dangerous sense, every single printed handkerchief means a meaningful testament of the continuous nurturing mentorship among artists and educators, reminding us that the soft touch remains both an intimate and universal need of communication.
---
To celebrate this constant and sustained creative dialogue, in 2019 the curators developed a portable exhibition of 50 handkerchiefs that explored the meaning of belonging and interconnectedness that this Spanish saying so tangibly evokes. In the reconstruction of this alternative family made up of artists and collectives from different latitudes and generations during the last two decades, both printed an edition of 25 handkerchiefs, and sent a printed handkerchief along with a blank handkerchief to 50 invited artists to intervene with their own reflections
on home, identity and belonging. From this exchange a "wandering genealogy" was born, a tribute to the strong threads that have woven this shared territory as itinerant artists and educators.
A limited edition catalogue including the work of 50 invited artists was published by Impact Press, Bristol, UK and includes an essay by Gill Saunders, Senior Curator of Prints, Victoria & Albert Museum, London. Currently, the catalogs of workshops and portfolios remain as digital publications, thus allowing to document the constant growth of this genealogy. Chris Knollmeyer, a sound artist in residence at ´ace at the same time, composed for this exhibition a special piece: "Sound of the Handkerchiefs". The piece is a piano study made up of 25 melodies. Just as the handkerchiefs are tied to each artist's history and sense of home, Chris feels a connection to the piano.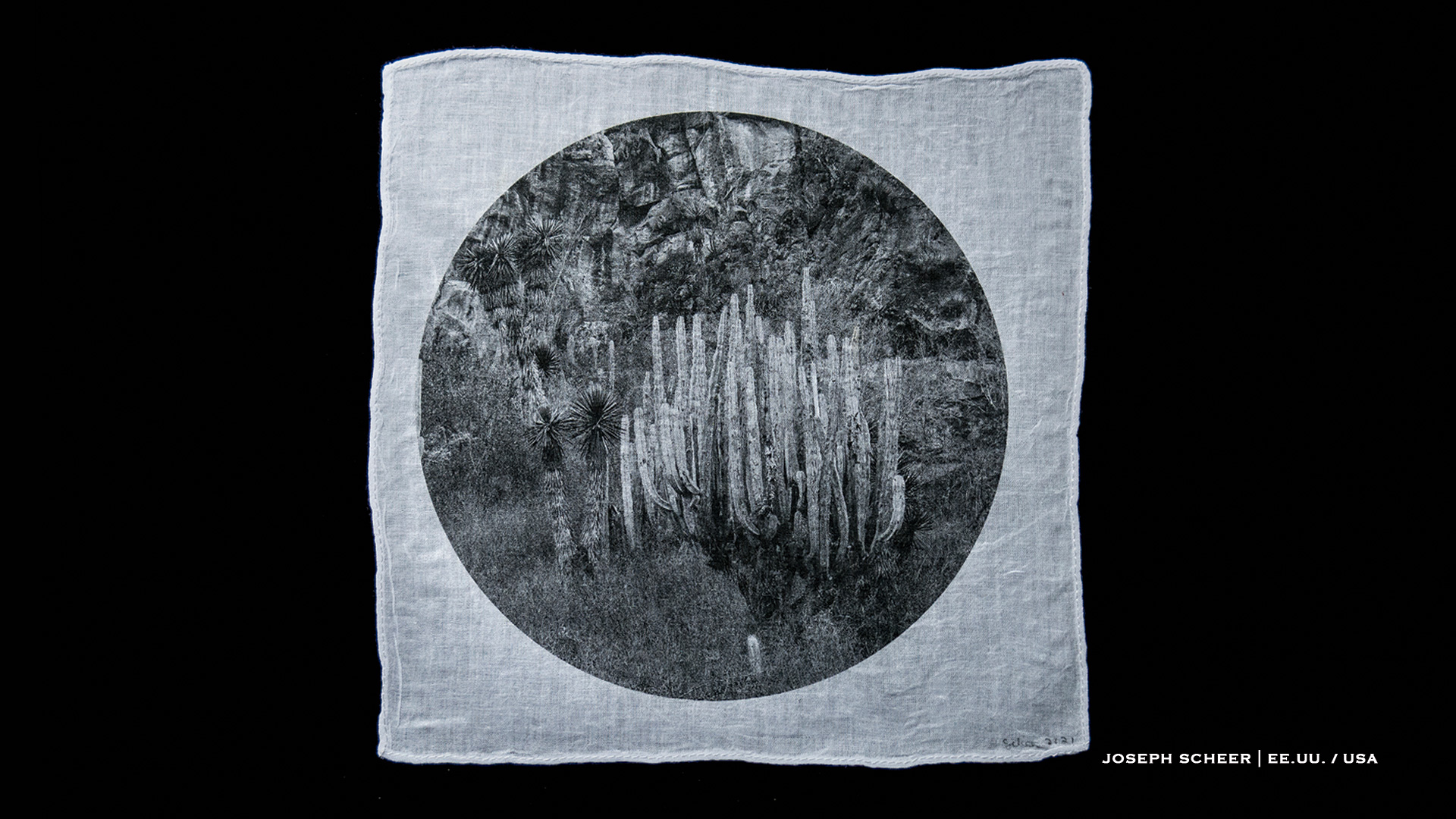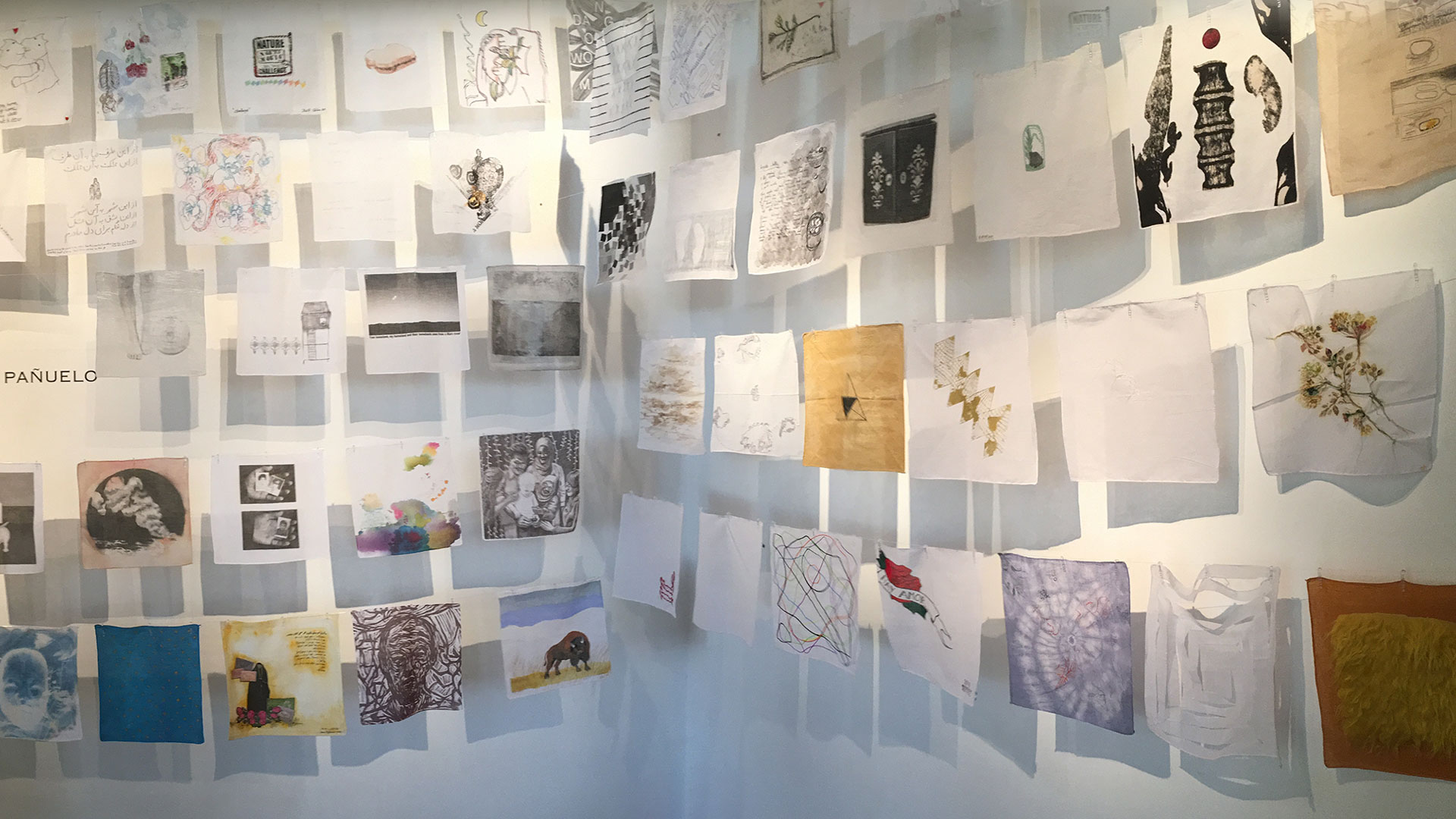 ´aceNITE
Cohabiting Memories
Artists in Dialogue
23.03.22
On Wednesday, March 23, 2022, we hosted Cohabiting Memories, our first ´aceNITE of the year and the first since the pandemic began. During this meeting, we had several simultaneous activities that complemented and strengthened each other. On the one hand, the Sala Políglota received the international project The World IS/IN a Handkerchief, a traveling exhibition curated by Claudia DeMonte and Cecilia Mandrile that traces chance encounters, moments of discovery and personal connections in distant places or unexpected contexts, being even At the time, a total of 121 works printed in different graphic techniques on cotton handkerchiefs—on this occasion, the genealogy of Proyecto´ace was also presented, curated by Alicia Candiani.
To this, the presentations of our artists-in-residency were added. Chris Knollmeyer (USA) presented and performed live for the audience a piece of music specially composed and designed to accompany the installation of the handkerchiefs in the Políglota Room. For 4 weeks, Chris composed original fragments with a generative software created by him, using sounds of musical instruments and ambient recordings taken from the City of Buenos Aires and his surroundings during his stay. In addition, Ioulia Akhmadeeva (Russia-Mexico) showed part of the results obtained during her Production Residency in our workshop, sharing with the public an artist's book and different editions in which she was working on the themes of memory and the war situation. in which his native country is located under the title Stop War / Net Voyne!. Wesley Ericson (USA) opened for the public his site-specific installation Something familiar in our courtyard, where he made a wall painting that takes one of our hanging plants and incorporates it into a classic motif from art history: the figure of Perseus holding the decapitated head of Medusa. In addition, Wesley installed a mirror so that those who dared to contemplate his work would not be paralyzed by the gaze of Medusa.
Also, we share with the public the results obtained by the cohort of COHABITAR FRONTERAS, the seventh edition of our online program Together Apart. On this occasion, with the support of the Metropolitan Fund for the Arts, 20 fellows worked collectively to discover possible ways of jointly inhabiting indeterminate spaces within their artistic practices, creating new bodies of work and thinking about questions about the intersection of disciplines both within the art as outside of it.
---
OPENING
March 23, 2022
FINISSAGE
April 27, 2022