Poland
Alicja Habisiak-Matczak
Visiting Artist
17.02.19 02.03.19
As part of the Exchange Program that ´ace maintains with the Academy of Fine Arts in Lodz, Poland, Fundación´ace invited Alicja Habisiak-Matczak as a visiting artist. Alicja is the initiator and coordinator of PATA (Printmaking and Textile Art) Summer Courses at the same academy, her alma mater, where she also works as a teacher and current director of the Intaglio Techniques Workshop.
The program of her visit included Probable Spaces, an exhibition of her graphic work, the delivery of a conference about the activities of the academy in the disciplines of printmaking and textile art . In addition  her speech covered the city of Lodz´s traditions, famous for its Triennial of Textile Art and history of textile production. last but not least, she participated in the workshop dictated by Tomasz Matczak making a lithography in the Mokulito demo technique.
As an artist, Alicja begins to work from drawings, generally charcoal sketches on paper, in which the craft and rigorous knowledge that characterizes artists from Eastern European countries is manifested. The industrial landscape of her hometown, Lodz in Poland, the architecture of Rome, Urbino, Perugia and many other Italian cities or the memories of her travels to Luxembourg or Canada are shown as her main sources of inspiration.
From all these inspiration resources,  she creates her own visions of space, a kind of architectural whim that follows the lesson of Piranesi and her "Carceri". The feeling of movement and rhythm can recall the paintings of the futurists, the juxtaposition of several ancient points in an image reflects the cubist way of thinking about space. With all these elements, her work traps us in a swirling vision of spaces and perspectives and introduces us to solitary worlds where architecture, light and shadow, the torn line are the protagonists.
BIO
ALICJA HABISIAK-MATCZAK
1978| Piotrków Trybunalski, Poland
Lives and works in Lodz, Poland.
STUDIES
Strzemiński Academy of Fine Arts in Łódź.  Poland
Postgraduate courses and workshops at Academy of Fine Arts and the International Art Centre KAUS, Urbino, Italy
EXHIBITIONS
She holds 19 solo exhibitions in Poland and abroad and participant of over 160 international print and drawing exhibitions where she received 14 awards and honorable mentions in  Poland, Romania, Spain, Italy and Canada.
This activity has been possible thanks to the generous support of the Polish institutions listed below as well as the Fundación´ace para el Arte Contemporáneo.
Related Activities
Exhibitions, Fellowships
Probable spaces
Alicja Habisiak-Matczak
20.02.19 01.03.19
In February 2019, we had the pleasure to receive Alicja Habisiak-Matczak as a Visiting Artists and to exhibit a body of her graphic work at the Poliglota Room. As part of her visit, the artist delivered a lecture and participated of a full day of activities with Argentinean artists that was open to the local public and artistic community.
Probable spaces (by Alicja Habisiak-Matczak)
I create my own visions of space, a kind of architectonical caprices following the lesson of Piranesi and his "Carceri". The sensation of movement and rhythm may bring to mind the paintings of the futurists, the juxtaposition of various vintage points in one image reflect the cubist way of thinking about the space.
My pieces are inspired by existing places, though they are always modified by my imagination, memories and my "perception of perspective"—individual and intuitive.  Under the influence of these transformations, I would like my graphic works to become more universal urban scenes, which every viewer can interpret in their own way. My enchantment by the urban environment connotes "Invisible Cities" by Italo Calvino with his visionary concepts, such as "a hanging city" or "a city of light".
These prints reveal my fascination with the nature of light and shade, which through changes of direction, intensity and character, create infinite, mysterious spaces. The urban architecture is often the scenery of their mutual interactions – it is often distorted and it sometimes brings to our mind the atmosphere of a dream, where repetition, exaggeration, connection of seemingly strange elements into new wholes is a natural way of perceiving the world. I try to show the monumental character of space, which is sometimes constructed  or somewhere else deconstructed by shade and light.
Technically, I pay much attention to a search for different ways to obtain grainy textures—both in the technique of aquatint dusted by hand, in the technique of roulette or sand aquatint. Each of these techniques allow me to obtain a varied and rich structure built of points—white and black. In my recent research on iron plates in intaglio techniques, I use the ferrotint technique and etching on iron. Etching aluminum plates in copper sulphate is part of my latest experiments with non-toxic intaglio techniques.
–––––
This activity has been possible thanks to the generous support of the Polish institutions listed below as well as the Fundación´ace para el Arte Contemporáneo
Encounters, Workshops
Grafik Lodz
Artists in Dialogue
27.02.19
On Wednesday, February 27th, we shared a full day with guest artists Alicja Habisiak-Matczak and Tomasz Matczak, professors of the Academy of Fine Arts of Lodz in Poland and of the international workshops PATA (Printmaking and Textil Art).
The meeting began with a conference and artist talk by Alicja Habisiak-Matczak, who spoke of her work exhibited in the Políglota Room as well as about PATA, the summer workshops in printmaking and textile art of the Academy of Fine Arts of Lodz that she directs. The talk also addressed the activities of the Academy in the disciplines of graphic and textile art as well as the art traditions of Lodz, a city is famous for its Textile Art Triennial and textile production, as well as the high quality of their design and engraving.
Alicja travelled to Buenos Aires as part of an exchange agreement that Fundación´ace has with the Academy of Fine Arts and Design in Lodz, Poland, where she's the Director of Techniques of Intaglio Studio and coordinator of the International Summer Courses PATA (Printmaking and Textile Art).
After lunch and networking, Tomasz Matczak taught an Algraphy workshop to share new non-toxic techniques of lithography with colleagues from the local art community.

PROGRAM
11.00 hs coffee and accreditations
11.30 hs  conference and talk with Alicja Habisiak- Matczak
13.00 hs lunch and networking
14.00 hs to 17.00 hs algraphy workshop by Tomasz Matczak
Prof. ALICJIA HABISIAK-MATCZAK
PhD TOMASZ MATCZAK
Artists and professors of the Academy of Fine Arts and Design in Lodz, Poland. Alicja is the director of the Workshops of Intaglio and the founder and current coordinator of PATA (Printmaking and Textil Art) international summer courses housed in the same academy.
Alicja is, since 2004, Professor and currently the Head of the Intaglio Techniques Studio. Since 2013 she has been the initiator and coordinator of the International Summer Courses Printmaking and Textile Art (PATA) at her home Academy. She graduated from the Strzemiński Academy of Fine Arts in Łódź. Post-graduate studies and courses in printmaking at the Academy of Fine Arts in Urbino, Italy and at the International Art Centre KAUS Urbino. She has exhibited 18 times, and has participated in 140 international group exhibitions, receiving many awards for her work.
Tomasz has a Doctorate in Arts, is in charge of the Lithography Workshops and teaches his own course, "Graphic Diversity", within the PATA International Program.
´aceNITE, Exhibitions
Intangible Territories
Artists in dialogue
20.02.19
On Wednesday February 20th, our first ´aceNITE of the year took place, opening the exhibitions of guest artists Alicja Habisiak-Matczak, Probable Spaces and Tomasz Matczak Atmospheres, from the Sztuk Pięknych Academy of Art and Design in Lodz (Poland).
At the same time, our artists in residence presented their projects: Camila Salcedo Guevara (Venezuela/Canada) performed her piece Miss Universe/o: Comandanta America, and Micaela Muzi (Córdoba, Argentina) exhibited her installation Controversia límite / desborde, a project that seeks, taking geometry as a metaphor for social regime, to investigate biological, technological and social transversalities that intervene in the construction of subjectivity in individuals.
Guillermo Mena (Córdoba, Argentina), artist awarded a scholarship by Fundación´ace, made a micro-Residency at the end of 2018 working in the transversal space. In this ´aceNITE, Guillermo presented Paisaje redundante e irrecuperable, site-specific mural done with charcoal and the record of "imprints" (rescuing the ephemeral drawing material contained in those walls).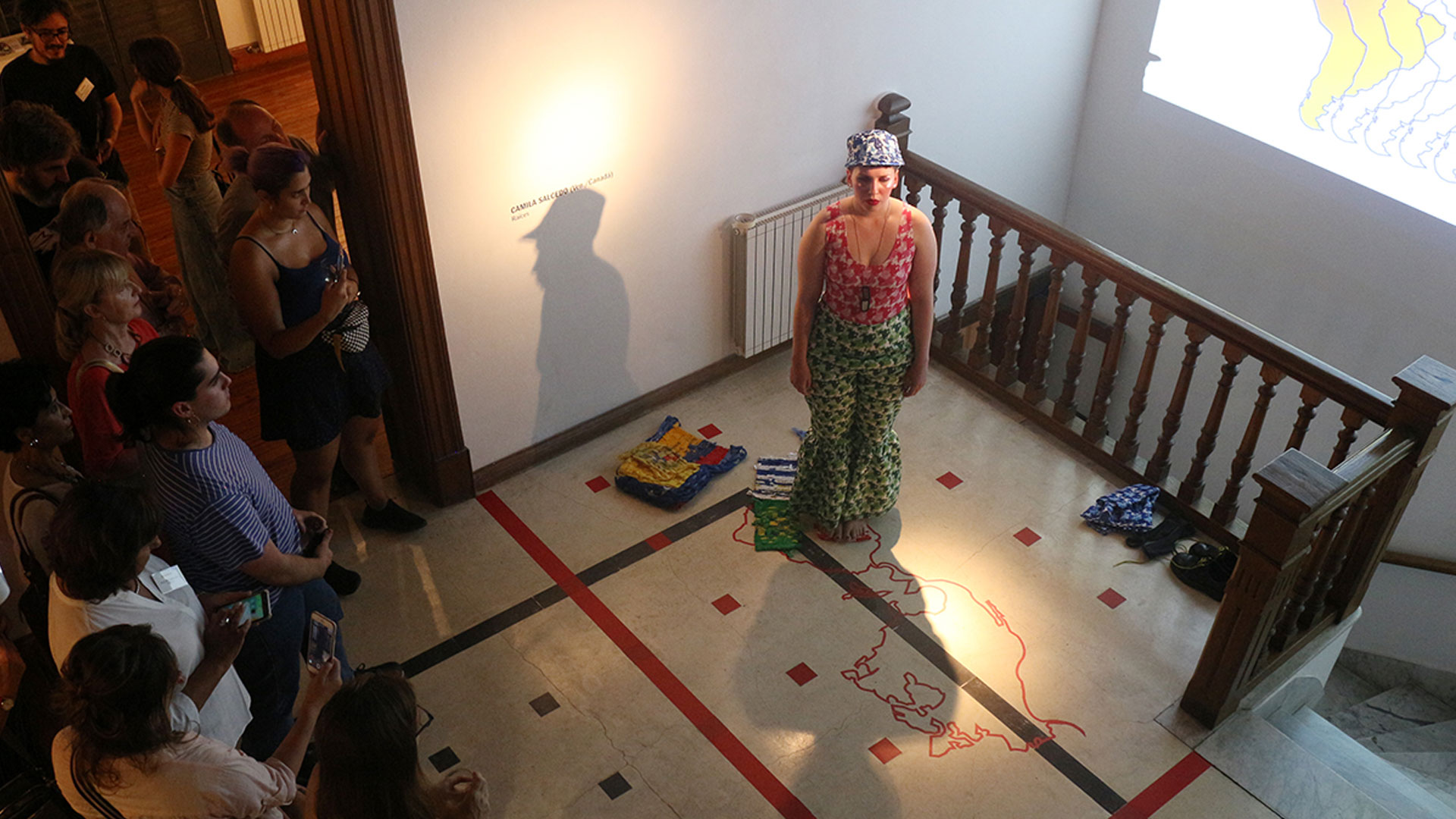 International Projects, Exhibitions
The World IN a Handkerchief
´ace´s genealogy
23.03.22 06.05.22
The World IS a Handkerchief : El mundo es un pañuelo
A Wandering Genealogy curated by Claudia DeMonte & Cecilia Mandrile
The World IN a Handkerchief : El mundo en un pañuelo
Guest Curator, genealogy Proyecto'ace: Alicia Candiani
Exhibition of pieces
selected from the Fundación´ace´s collection and Alicia Candiani's personal collection of the participating artists in "The world IN a handkerchief"
For a month and a half, the Políglota Room is hosting three exhibitions on a rotating basis. From March 23 to April 1, "The world IS a handkerchief" and "The world IN a handkerchief: the genealogy of ´ace" were exhibited simultaneously, paying special tribute to the Argentine artist Graciela Sacco. While the original  series returned to New York from where it will soon travel to England, the 'ace genealogy collection was joined by a new exhibition of  large format pieces of the participating artists, some belonging to the Fundación'ace collection and others to the private collection of Alicia Candiani.
---
The World IS a Handkerchief is a travelling exhibition rooted in the Spanish saying 'el mundo es un pañuelo,' which translates into English as 'this is such a small world'. The project traces serendipitous encounters, moments of discovering personal connections in distant places or unexpected contexts. The project began with the meeting of Claudia DeMonte and Cecilia Mandrile as a mentor and student respectively at the University of Maryland, United States in 1995 and has expanded through an international collaborative network between mentors, students and
peers.
The World IN a Handkerchief is a new chapter of the project, a graphic, soft and traveling portfolio curated by guests artists from the core genealogy. Artist and curator Alicia Candiani, essential mentor of this genealogy, Founder and Director of Proyecto´ace, has been invited to curate this new collection that reflects her close creative family.
ABOUT THE WORLD IN A HANDKERCHIEF  by  Cecilia Mandrile
Handkerchiefs have accompanied people in celebrations and farewells in many cultures for centuries, offered bodily protection and coverage, and sustained expressions of political tenets and spiritual beliefs. In this project, handkerchiefs become vessels of memories and itinerant narratives; containers of emotions; translators of wounds, signals of ideological resistance. Each piece epitomizes a soft space that holds disappearing recollections of homeland as well as reflections on displacement and identity that can be carried as a tangible memento. In times when touch appears as a dangerous sense, every single printed handkerchief means a meaningful testament of the continuous nurturing mentorship among artists and educators, reminding us that the soft touch remains both an intimate and universal need of communication.
---
To celebrate this constant and sustained creative dialogue, in 2019 the curators developed a portable exhibition of 50 handkerchiefs that explored the meaning of belonging and interconnectedness that this Spanish saying so tangibly evokes. In the reconstruction of this alternative family made up of artists and collectives from different latitudes and generations during the last two decades, both printed an edition of 25 handkerchiefs, and sent a printed handkerchief along with a blank handkerchief to 50 invited artists to intervene with their own reflections
on home, identity and belonging. From this exchange a "wandering genealogy" was born, a tribute to the strong threads that have woven this shared territory as itinerant artists and educators.
A limited edition catalogue including the work of 50 invited artists was published by Impact Press, Bristol, UK and includes an essay by Gill Saunders, Senior Curator of Prints, Victoria & Albert Museum, London. Currently, the catalogs of workshops and portfolios remain as digital publications, thus allowing to document the constant growth of this genealogy. Chris Knollmeyer, a sound artist in residence at ´ace at the same time, composed for this exhibition a special piece: "Sound of the Handkerchiefs". The piece is a piano study made up of 25 melodies. Just as the handkerchiefs are tied to each artist's history and sense of home, Chris feels a connection to the piano.