France
Chloë Charce
Architectural Memories
11.06.18 06.07.18
Chloë Charce is an artist who works in different media, spinning all through conceptual and absurd gestures. Her Duchampian reminiscences are combined with poetry and simplicity. She travelled through Buenos Aires in search of the iron structures that were first brought by colonial architecture, then European modernization and its particular Buenos Aires syntax and reinterpretation.
ARTIST STATEMENT
My research/creation focuses on the diversion of the image, the subject or the object of everyday life through an artistic practice combining notions of materiality by a sculptural approach and immateriality by the use of light and video projection.
Elements are often borrowed from architecture, memory of places and nature, creating a dialectic connection between organic and industrial shapes, between the will to control and the object's inherent strength which imposes its presence. Recurring references to mythology, as palimpsests of a collective memory, reminiscence of a past both historical and imaginary, are also noticeable: Pline, Narcissus or Sisyphus, embody millennia symbols and current reflections of human nature.
As part of this residency project, I want to deepen my reflection on the cinematic relationship between the object, light and video, which characterises my artistic practice. Taking the materiality of the object as a place of potential transformation, I would like to explore the boundaries between fiction and reality. In particular, I would like to continue with the development of a reflection aimed at projects in the city, architecture and crafts. The starting point of this series began with sculptural elements in white acrylic (plexiglass), retro-illuminated with neon lights, as replicas or continuities of existing architectural elements, namely, in wrought iron, as witnesses of an artisanal tradition that is disappearing in favor of unavoidable normalization and industrialization.
BIO
Chloë Charce
1981 | Albertville, France
Lives and works in Montreal
EDUCATION
2018 | BFA in Visual and Media Arts, University of Quebec in Montreal (UQAM) , Canada
2011 | MFA in studio arts – sculpture at Concordia University, Montreal, Canada
EXHIBITIONS
2019 | Suspended Places, Galerie Deux Poissons, Quebec, Canada
2018 | Presence. Architectural Memoirs, Axeneo7, Quebec, Canada
2017 | Unscrupulous, Laurentides Contemporary Art Museum, St-Jérôme, Quebec, Canada
2017 | Permanent outdoor project
2017 | Talk to me about love…—Les impatients, Montreal, Quebec, Canada.
2016 | Collision 12, Parisian Laundry, Montreal, Quebec, Canada
Related Activities
Exhibitions, Open Studio
Architectural Memories
Chloë Charce
04.07.18
Chloë toured the city of Buenos Aires looking at the iron gates of different neighborhoods and the ones that interested her the most, perhaps because of the particularity of the space, were those of the Chacarita Cemetery.
From those, the artist reproduced portals 1:1 in foam board, covered them with iridescent tape and installed them in the same cemetery, in front of their "originals". Before dawn, Charce captured images between phantasmagoric and timeless. Photographs that bring that uneasy and hypnotizing indeterminacy.
During the July 4th ´aceNITE, Chloë installed one of the portals in the ´ace house, bringing part of the cemetery inside, an important element in the identity of the Chacarita/Colegiales area, where we are located.
BIO
Chloë Charce
1981 | Albertville, France
Lives and works in Montreal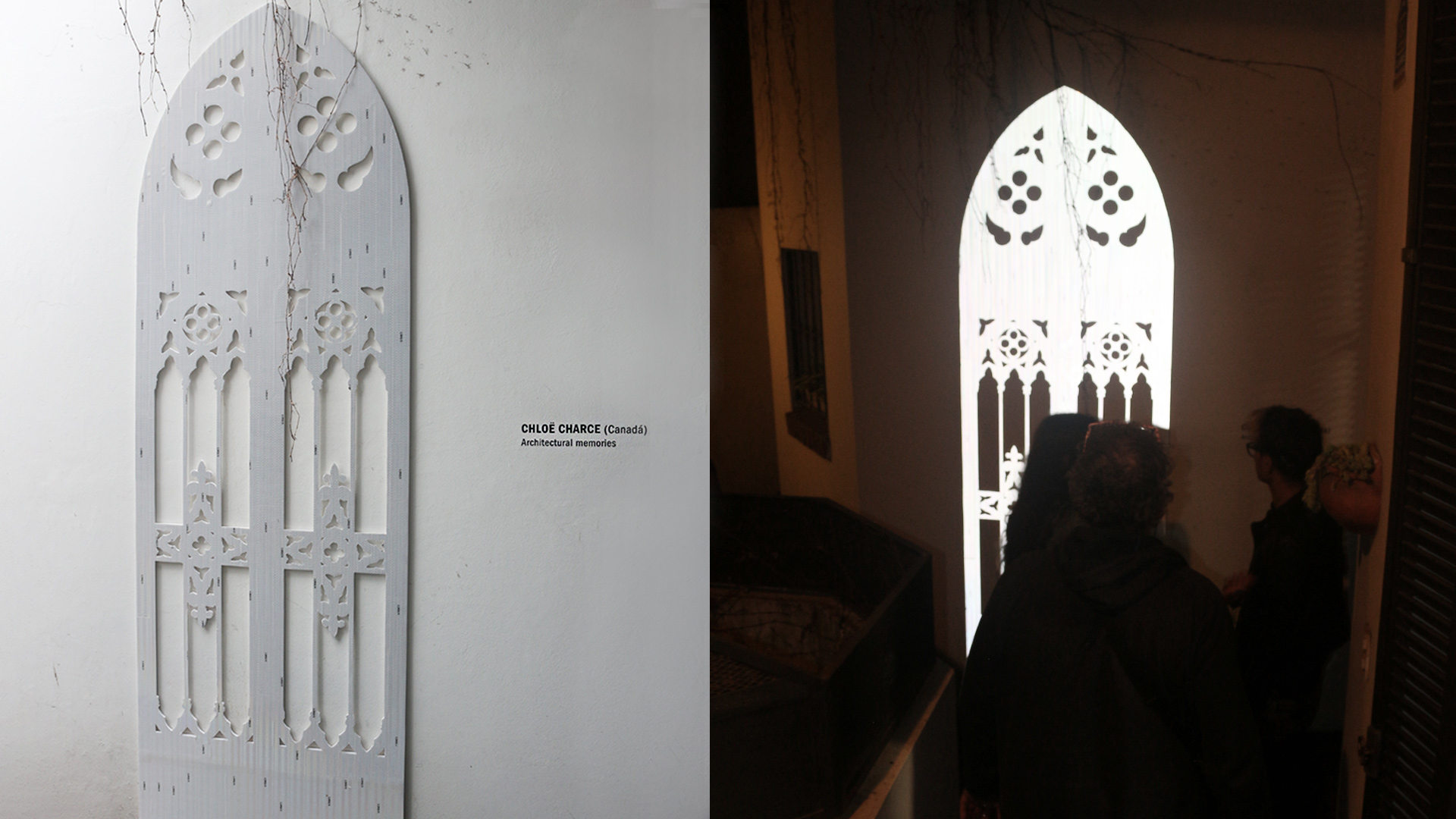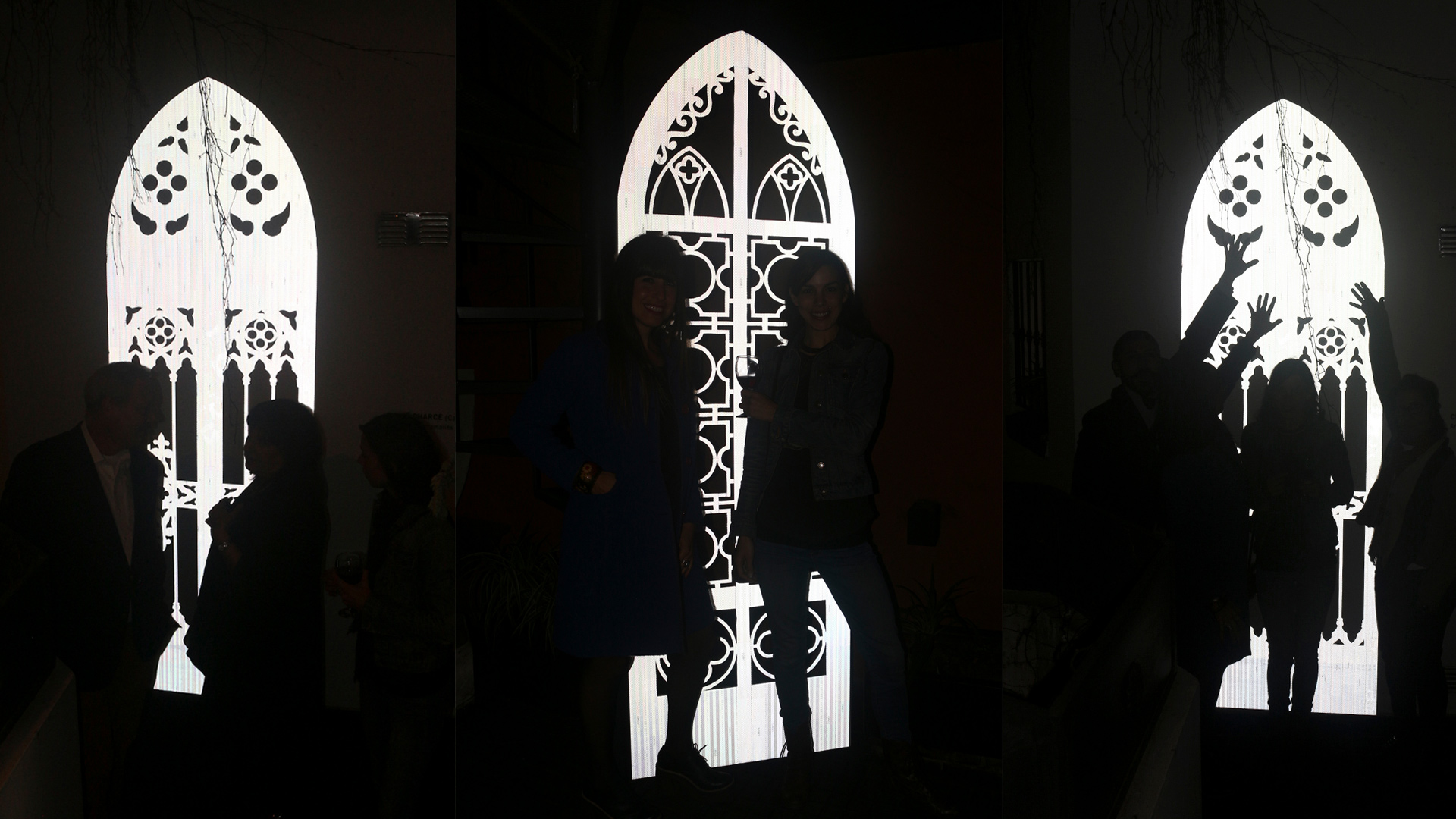 ´aceNITE, Exhibitions
Color: Africa
Artists in Dialogue
04.07.18
Color: Africa was a very special night with five women artists presenting their very powerful pieces. Its name comes from the fact that Africa was present through its colors and its geopolitical and social history in two important exhibitions.
Mariela Yeregui (Argentina) presented "Just a Face", an installation simultaneously spread in the Dialogue Space and the Central Hall. Based on the technique of African wax-dyed textiles, the proposal displays a series of fabrics that shaped an installation to reflect on the Rwandan genocide. The work is also imbued with the own experiences of the artist who, simultaneously with the historical events, was residing in West Africa.
In dialogue with the vibrant colors of Mariela's fabrics, the Polyglot Room was occupied by "Map of an Identity" an exhibition by Maritza Dávila produced during her second residency with us (the first was in 2011). As an artist of color born in Puerto Rico (but who emigrated to the United States since her college days and now based in Memphis), Maritza reflects on her triple Taino, Spanish and African identity. The artist seeks to amplify voices that have been largely ignored but are in fact and deed contributing to the changing demographic and cultural dynamic of the contemporary world.
In addition, Ann Kresge (United States, an exquisite artist bookmaker) displayed in the workshop several artist books made during her residency with us. Ann has been a member of the famous Woman Studio Workshop in New York and her works are at the Victoria & Albert Museum in London, the MET in New York and the Getty Center in California. The exhibitions included as well Canadian artist Chloe Charce´s lighting installations. Finally, Lucía Sancinetti´s ethereal works, in the Transversal Space, were selected in the 2018 Semillero Program for Argentine emerging artists.