Venezuela
Camila Salcedo
Raíces: Una Exploración Textil Y Performativa
28.01.19 22.02.19
During her residency in ´ace Camila Salcedo was looking forward holding conversations around migration, birthplace, homeland, citizenship and the law, exile, and questioning colonialism, patriotism and nationalism within the context of Argentina and abroad.
ARTIST STATEMENT
As a diasporic Latin body, as a Venezuelan woman, and as an immigrant to Canada, my artistic practice largely explores various dichotomies, such as: being a Latin in Canada, being a queer body with a Catholic upbringing, and growing up as a woman in a chauvinistic and patriarchal society. I often also explore ideas of migration, displacement, identity, queerness, politics, decolonization and feminism rooted in intersectionality.
As an interdisciplinary artist, these ideas are carried out mostly through performance, video and textiles; and most of my work visually involves vibrant and vivid colours. I am attracted to  performance as a medium because of its ephemeral, spaceless, and time-based aspects; much like migrating, performance requires adaptability, unpredictability and improvisation. Through personas such as Lil' Arepa, Miss Universe, and Señorita Invierno Tropical, I have enacted various fictional characters which reference my Venezuelan cultural identity in the context of living in Canada. In my most recent explorations, I have been focusing on ideas around deconstruction of monuments around the world and how these actions may be choreographed through dance.
Throughout my time at ´ace, I became interested in questioning my own production in utilising flags as materials for textile works, and I would also like to begin to use maps as a new object for research and object creation. I am interested in creating artworks within the context of Latin America, especially as a young immigrant to Canada from Venezuela who has never returned to my homeland. What does being Latin mean? What are the implications of being a Latin based in North America returning to the Global South? How are art practices influenced by being outside or within our home?
BIO
Camila Salcedo
1996 | Caracas, Venezuela
Lives in Canada
2018 | BFA Interdisciplinary, NSCAD University. Canada.
EXHIBITIONS
RiAP, Art in the Open, Nocturne, articule, 7a*8d, Anna Leonowens Gallery, Khyber Centre for the Arts, and Connexion Artist-Run-Centre in Canada
La Pocha Nostra, Mexico
GUS, South Africa
AWARDS AND RESIDENCIES
2018 | Individual Artist Professional Development Grant, Arts Nova Scotia, Canada
Creative Innovators of Tomorrow Award
Arthur Lismer Award for Academic Excellence
Arquetopia, Oaxaca, Mexico
The Lab Program, Mexico DF, Mexico
Related Activities
´aceNITE, Exhibitions
Intangible Territories
Artists in dialogue
20.02.19
On Wednesday February 20th, our first ´aceNITE of the year took place, opening the exhibitions of guest artists Alicja Habisiak-Matczak, Probable Spaces and Tomasz Matczak Atmospheres, from the Sztuk Pięknych Academy of Art and Design in Lodz (Poland).
At the same time, our artists in residence presented their projects: Camila Salcedo Guevara (Venezuela/Canada) performed her piece Miss Universe/o: Comandanta America, and Micaela Muzi (Córdoba, Argentina) exhibited her installation Controversia límite / desborde, a project that seeks, taking geometry as a metaphor for social regime, to investigate biological, technological and social transversalities that intervene in the construction of subjectivity in individuals.
Guillermo Mena (Córdoba, Argentina), artist awarded a scholarship by Fundación´ace, made a micro-Residency at the end of 2018 working in the transversal space. In this ´aceNITE, Guillermo presented Paisaje redundante e irrecuperable, site-specific mural done with charcoal and the record of "imprints" (rescuing the ephemeral drawing material contained in those walls).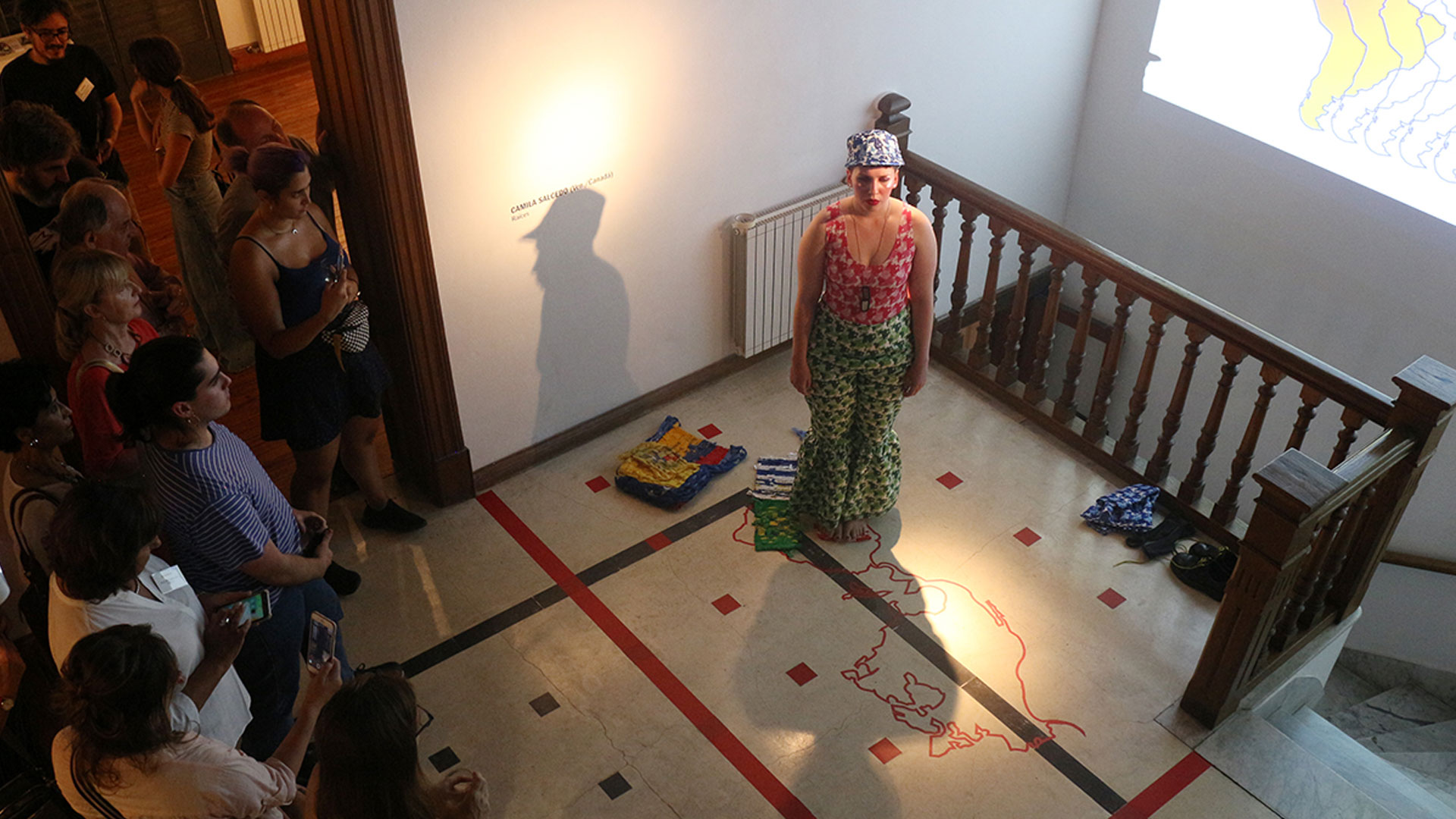 Performance
Miss Universe/o
Camila Salcedo
20.02.19
Miss Universe/o: Comandanta America
In this version of Salcedo's performance character, Miss Universe/o is dressed as a military commander. Her camo uniform is made up of fabric designed by the artist herself, which contains the map of the American continent camouflaged in various shades of pink, green and blue. In the background, there is a rotating slideshow of collages that use the map of the American continent without national borders depicted. In this performance, she starts by taking off a layer of clothing and military-style boots, so as to infer that she is "off duty". Then, she proceeds to take out from a suitcase which was constructed out of the Venezuelan flag small flags one by one. Each flag corresponds to the twelve countries with the most Venezuelan immigrants of the Bolivarian diaspora, and they're made from cuts of the original flag that are then weaved together again in crochet style. There's a vinyl map of the American continent on the floor, and Miss Universe/o places each flag on top of the corresponding country. Every time she lays down a flag, she steps on top of it with her two feet, signifying new roots for Venezuelan migrants through attempting to be grounded. The amount of time she spends standing on each flag/country directly relates to the number of Venezuelans in that country. Later, she lays down on top of all the flags, so as to erase or block the borders by covering them with her body. She finishes the performance by picking up each flag and making a stack of them on top of Venezuela on the map, and lays her military necklace tag on top.