Serbia
Zorica Vasic
Last Imported
04.05.15 22.05.15
Zorica Vasic is an artist who usually works with drawing and writing, where the first are reminiscent of comic frames and usually addressed to someone within her visual diary. She is adjunct professor and she teaches drawing and color studies as a sessional instructor at OCAD University.
Mundane themes and popular culture like email spam, Internet astrology, web romance, dream analysis, on one side and the making of art and isolation as a precondition for artist production on the other. Some topics such as pirates are spontaneously recurrent over a long period of time and became part of the work vernacular.
Since 2012, Vasic is a principal of the artist collective Dark Triangle, with artists Matt Crookshank and Ulysses Castellanos. Dark Triangle is represented by Georgia Scherman projects in Toronto, Canada. Her writings and texts have been published in ICA (London, UK), CASCO Issues, Utrecht (The Netherlands), STOPSTOP magazine for contemporary Art (Glasgow, UK), RE magazine (Amsterdam, The Netherlands), Public Relations – The new Photography in Britain, Stadhaus Ulm (Germany, published by Cantz), Gallery W139 Catalogues (Amsterdam), Le démarche (Leuven, Belgium).
ARTIST'S STATEMENT
Last Imported is a project structured around the idea of a travelogue. This visual diary of a trip to Argentina, among Vasic' usual style of drawing and text, will incorporate the research on the famed Argentinian comic tradition from the 80's and 90's onwards. Drawings will be accumulated to stream in a chronological order on a roll of semi-transparent Chinese calligraphy paper. In the course of the project, the paper scroll will be polished with layers of liquid rubber latex. Latex drawings on a calligraphy paper is an innovative medium that Vasic developed, that expands volume and body of paper, transforming its two-dimensional plane into a 3-dimensional object.
BIO
Zorica Vasic
1966 | Belgrade, Serbia.
Lives and works in Toronto, Canada.
STUDIES
1996 | MFA, Jan van Eyck Academy. Maastricht, Netherlands.
1992 | BFA, Academy of Fine Arts. Arnhem, Netherlands.
She also studied at the Academy of Applied Arts in Belgrade, Serbia.
EXHIBITIONS
Suzanne Biederberg Gallery. Amsterdam, Netherlands.
Zvono galerija. Belgrade, Serbia.
Lendi Moore Keith Gallery. Toronto, Canada.
Reinraum. Dusseldorf, Germany.
OCAD University Gallery. Canada.
OCAD University President Office. Canada.
Estacion Zero Gallery Oaxaca. Mexico.
RESIDENCIES AND AWARDS
UNESCO grant Paris, France.
Jan van Eyck Akademie. Maastricht, Netherlands.
MFA grant for students from Eastern Europe.
Grant award for artist book/catalogue. Utrecht, Netherlands.
Related Activities
Exhibitions
Last imported [mixed media]
Zorica Vasic
20.05.15 20.06.15
Zorica Vasic is a serbian visual artist who completed a residency at ´ace in May 2015. She was able to exhibit her work carried out throughout her residency in the ´aceNITE Memories, that was carried out on May the 20th of that same year.
Within an aesthetic that covers pop and trashy, Vasic creates pieces that begin as illustrations with tags in vibrant colours, in paper and then she covers her creations with latex painting. In this way, she builds pieces that look similar to skin and leather.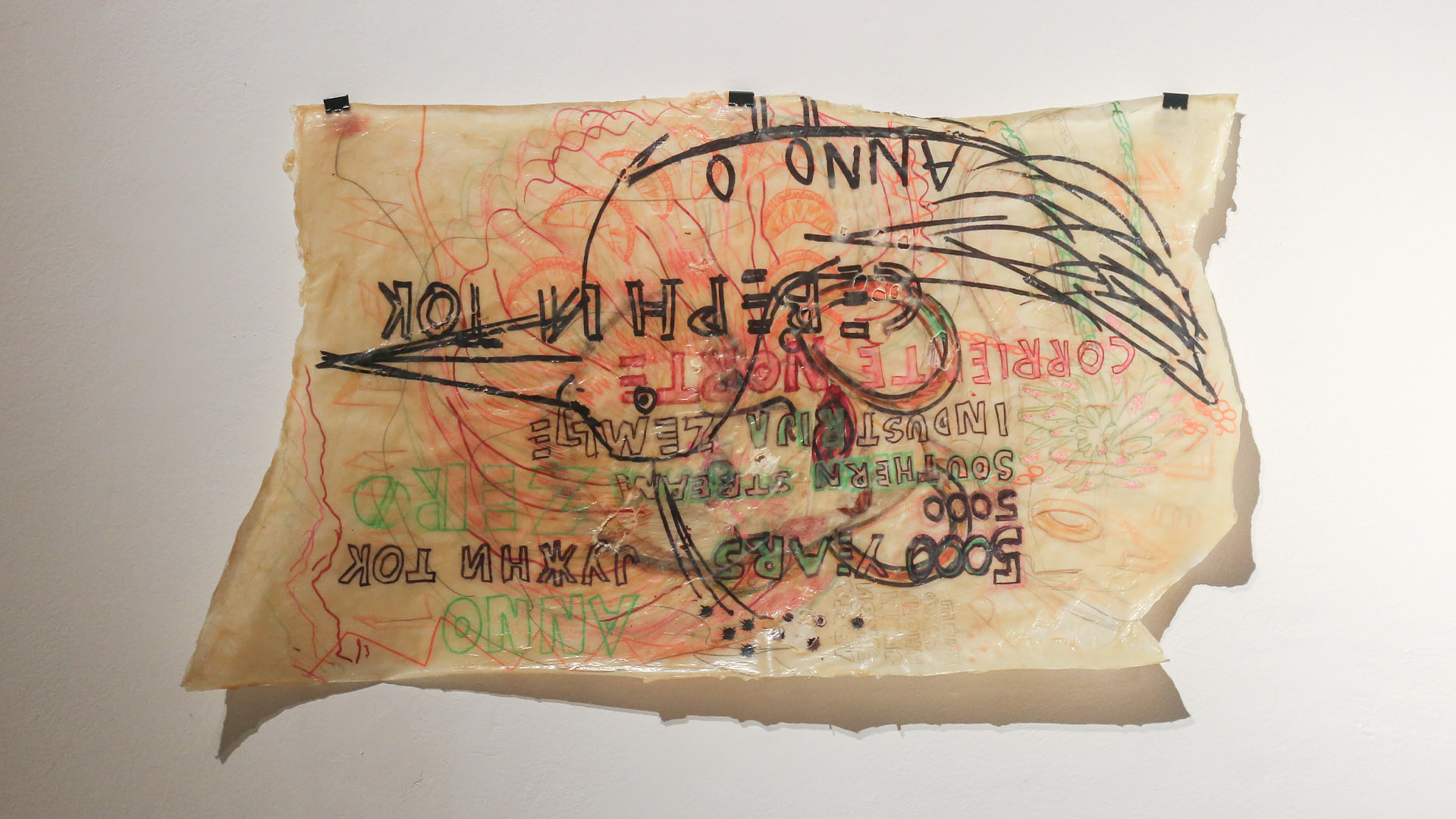 ´aceNITE, Exhibitions
Despojamiento
Shin-Nicholson
22.07.15
We wanted to thank the public, colleagues and friends who attended Despojamiento, the ´aceNITE that took place in July. During this event we were able to exhibit the work that artists Hye Young Shi (South Korea)  and Anna Nicholson (Puerto Rico) produced during their June-July residences.
In the Poliglota Room, the Young Shin Hye's work seeked to create spaces in order to share experiences with the public. Blessing is an installation of large-scale drawings that was entirely produced while he completed his residency in ´ace. He reflected on the experience of disease. The installation consisted of 4 pieces of 6 meters each, which reflected different psychological stages of human beings when confronted with different diseases. Graphite drawings on Mylar paper (having some transparency) are highly expressive while are embodied with exquisite technical quality.
Anna Nicholson, an artist who works with expertise with all of the printmaking techniques, in In Icarus' Skin, she recreated the myth of Icarus. Where his wings were melted by the sun when he desired to fly higher than he could. The metaphor makes a strong allusion to the economic problems that Puerto Rico faces.
Finally, the public had the opportunity to enjoy the exhibitions of artists in residence from May to June and Joseph Kaplan Zorica Vasic well as Portfolio Ccycles before its closure.
---
ABOUT ´aceNITE
Is an event that occurs periodically, on Wednesdays from 7pm to 10pm.
During this time ´ace opens its doors and exhibition spaces to the community to show projects made by the artists in residence as exhibitions, installations and audiovisual presentations, art works of Argentine and Latin American artists selected in a free way, present books, art critics, hold performances or to do everything together!