Puerto Rico
Anna Nicholson
In Icaro's Skin
29.06.15 17.07.15
Anna Nicholson is a Puerto Rican artist who for a time lived in Buenos Aires, where her children were born.
In the skin of Icarus, the project she developed during her residency at 'ace, explored the current state of crisis on her island as well as the changes in her family structure. She was inspired by Greek mythology to carry out her project
The Skin of Icarus (after Ovid)
Nothing from heaven / He was born with the wind / Instinctive forces / They hurry the trip / Pain and courage / only pen and wax / thousand doubts / rush the trip / Pact and childbirth / air seeds / times of change / They hurry the trip / What to do with what I was / Aromas and memories / Invade the luminous skin / That denotes the mirror of the labyrinth / Icarus in the skin / flight and end
BIO
Anna Nicholson
1964 | Aibonito, Puerto Rico.
Lives and works in San Juan, Puerto Rico.
STUDIES
2014 | Professor of Printmaking at the School of Fine Arts. San Juan, Puerto Rico.
Master in Digital Graphic Design, Atlantic College University. Guaynabo, Puerto Rico.
1998 | Postgraduate Studies in Printmaking and Painting, National School of Fine Arts Ernesto de la Cárcova. Buenos Aires, Argentina.
1994 | Postgraduate Studies in Printmaking Techniques, UNAM. San Carlos, Mexico.
1988 | BFA, University of Puerto Rico.
OTHERS
Her work has been part of numerous exhibitions throughout the Americans and is part of international collections.
Related Activities
´aceNITE, Exhibitions
Despojamiento
Shin-Nicholson
22.07.15
We wanted to thank the public, colleagues and friends who attended Despojamiento, the ´aceNITE that took place in July. During this event we were able to exhibit the work that artists Hye Young Shi (South Korea)  and Anna Nicholson (Puerto Rico) produced during their June-July residences.
In the Poliglota Room, the Young Shin Hye's work seeked to create spaces in order to share experiences with the public. Blessing is an installation of large-scale drawings that was entirely produced while he completed his residency in ´ace. He reflected on the experience of disease. The installation consisted of 4 pieces of 6 meters each, which reflected different psychological stages of human beings when confronted with different diseases. Graphite drawings on Mylar paper (having some transparency) are highly expressive while are embodied with exquisite technical quality.
Anna Nicholson, an artist who works with expertise with all of the printmaking techniques, in In Icarus' Skin, she recreated the myth of Icarus. Where his wings were melted by the sun when he desired to fly higher than he could. The metaphor makes a strong allusion to the economic problems that Puerto Rico faces.
Finally, the public had the opportunity to enjoy the exhibitions of artists in residence from May to June and Joseph Kaplan Zorica Vasic well as Portfolio Ccycles before its closure.
---
ABOUT ´aceNITE
Is an event that occurs periodically, on Wednesdays from 7pm to 10pm.
During this time ´ace opens its doors and exhibition spaces to the community to show projects made by the artists in residence as exhibitions, installations and audiovisual presentations, art works of Argentine and Latin American artists selected in a free way, present books, art critics, hold performances or to do everything together!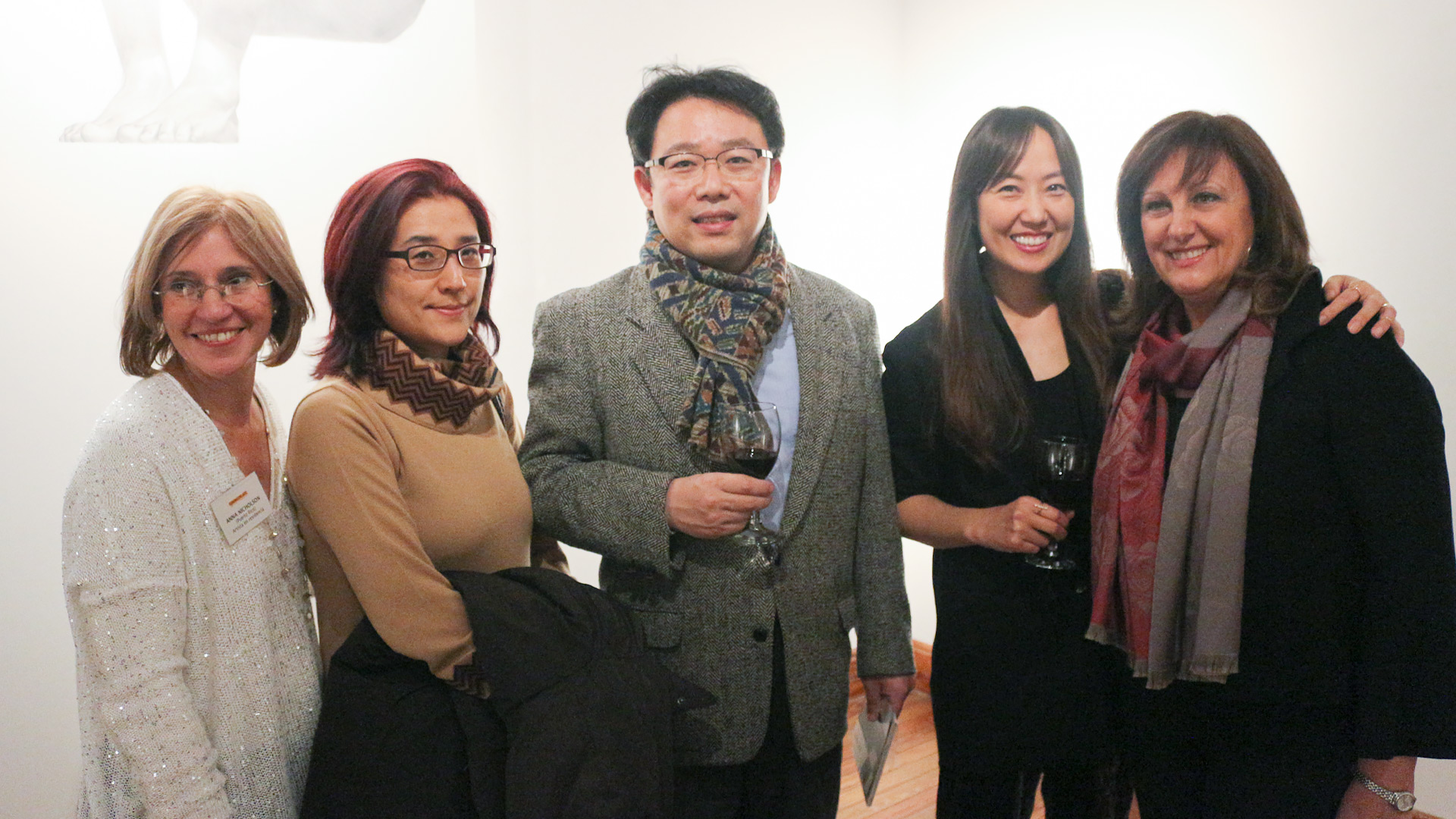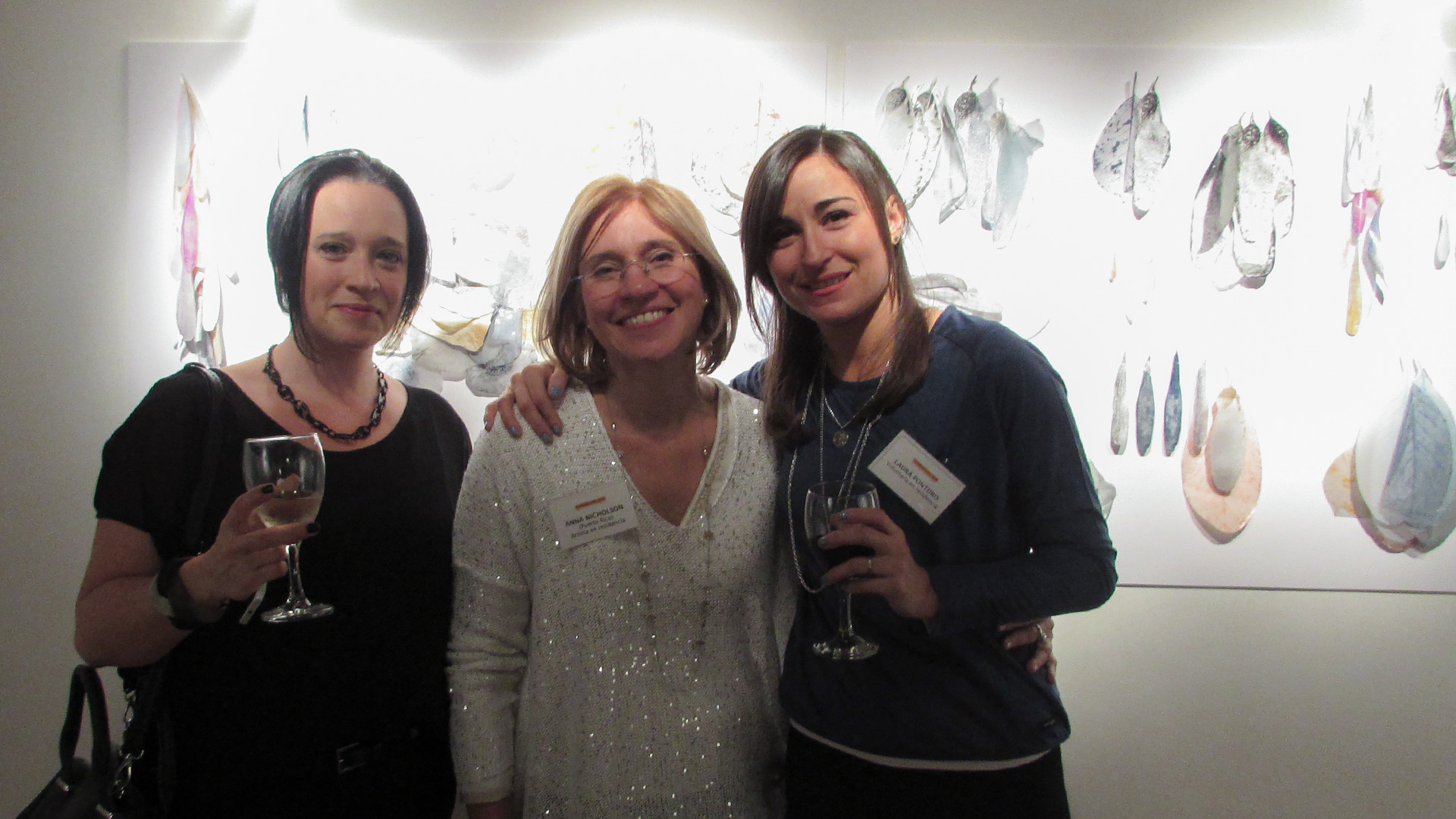 Exhibitions
In Ícaro´s skin
Anna Nicholson
22.07.15
IN ICARO´S SKIN (by Anna Nicholson)
Throughout the history of art, artists have used mythological references for the construction of their imaginary. The myth of Icarus is particularly symbolic in my current circumstances. I live in Puerto Rico, a Caribbean island that is close to chaos, mired in an economic crisis that can be compared to what the Greek people suffer today. Both Icarus as Puerto Rico are fragile facing the systems that handle global economies.
I think the artifacts created to impose flight symbolically desperate repair exhaust as a disguise. Newspaper clippings, different types of fabrics, textures a selection of paperas and whispered phrases, a collage of seeds trapped in a body of changing hierarchies. Using means of reproduction and printing techniques , multiple is the form chosen for the creation of a structure that explores the image.
Anointed by the excitement of reading the Ovid; Icarus, and relating to our highest good is the time.