United States of America
Beth Grabowski
(Re) Read
25.04.16 13.05.16
Beth Grabowski's art explores aspects of identity and relationship experienced from the perspective of motherhood. Issues such as nurturance, sentimentality, expectation, domestic labour, familial hierarchy and family narrative motivate her work. The work frequently exists as a documentation of the process of familial relationship through collaborative works.
ARTIST STATEMENT
My work from the past several years has been motivated by the idea of a contemporary nostalgia; a longing for coherency born more of an apprehension of an uncertain future rather than a sentimental desire for a past. It is a phenomenon particular to contemporary life as forces beyond individual control (natural disasters, global conflict, political systems, the alacrity of technological change) buffet us around, but in a paradoxical twist, also unite us; we are simultaneously inconsequential and connected.
In my most recent work, I have responded further to idea of the paradox through the use of language. My fascination with books, language and communication is often based more on what is unsaid than said. Comprehension is elusive at best. Communication is always dependent on specific frames of reference; spatial, temporal and cultural. If we are attentive to the changing conditions, revised understanding or new meanings emerge. More often, however, we hold onto assumptions and understandings supported by heuristic bias because we cannot imagine an alternative. Eventually intuition fails us because our ability to predict depends on a known context. Stability, and even progress toward new understanding require building upon the known.
My art emerges from these ideas; reconciling the known and unknown by consciously considering the familiar with the unfamiliar by re-reading existing forms in search for a new idea.
Beth's residency at Proyecto´ace was supported with a Senior Faculty Leave from the Provost's office of the University of North Carolina at Chapel Hill.
BIO
Beth Grabowski
1956 | Washington D.C.
Lives and works in Chapel Hill, Carolina del Norte, EE. UU.
EDUCATION
1985 | MFA at the University of Wisconsin-Madison, USA
Since 1985 | Zachary Taylor Smith Distinguished Professor of Art at the University of North Carolina-Chapel Hill
1978 | BA at the University of Virginia, Charlottesville, Virginia, USA
EXHIBITIONS
2015 | From Here to There, University of Colorado, Boulder, USA
2015 | 2ndGlobal Print Exhibition, Alijó, Portugal
2014 | Feel the D, Artists Respond to Detroit, Re:View Contemporary Gallery, Detroit, Michigan, USA
2012 | Awesome Printmakers, Turku Art Museum, Turku, Finland
2008 | Discovery: The Tradition of New Tools, SUNY Potsdam, Potsdam, New York, USA
RESIDENCIES
2010 | Tom Blaess Atelier, Bern, Switzerland
2010 | Frans Masereel Centrum, Kasterlee, Belgium
2007 | Sanbao Ceramics Institute, Jingdezhen, China
2003 | Getty Artist-in Residence, Colorado College, USA
Related Activities
Exhibitions
(Re) Read
Beth Grabowski
11.05.16
Beth Grabowski's residency had a very wide array of activities and exchanges. As a closure, we held an exhibition of her work in dialogue with works by Argentinean artists.
The works exhibited in the Políglota Room are small sized, like a set of pages from a medium size book, which is linked with the concept of her work. Grabowski's works reflect on the (in)communication, makes links between visual and written language, creating patterns and textures. She uses a wide variety of techniques including burning in order to create a new space for reading, confusion, exchange and communication.
Beth Grabowski
1956 | Washington DC, USA
Lives and works in Chapel Hill, North Carolina, USA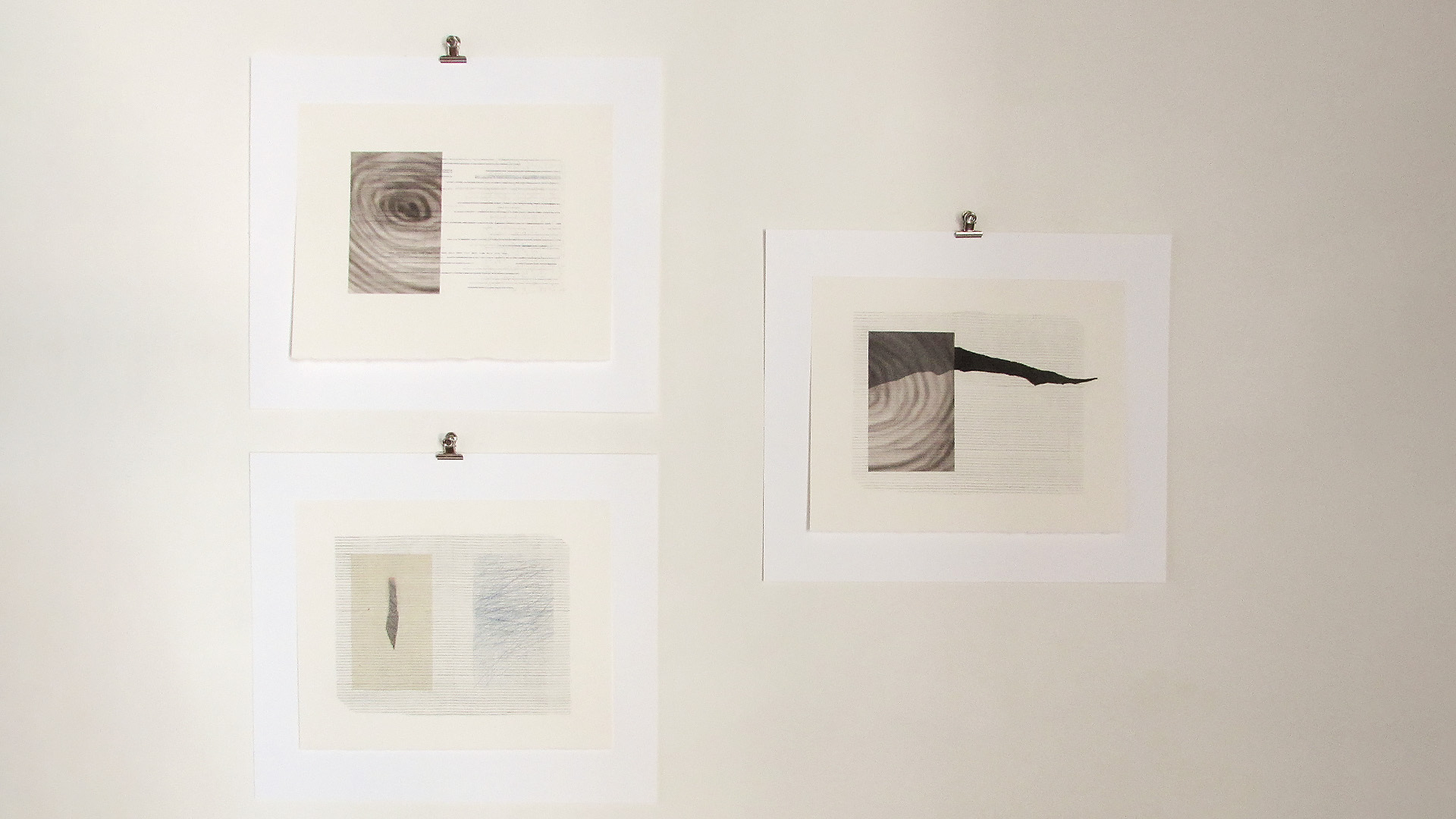 Encounters
Printmaking Guide Book
Beth Grabowski
12.05.16
On Thursday, May 12th, 2016, the presentation of the book Printmaking: A Complete Guide to Materials & Processes took place at "Libros del Pasaje" (Buenos Aires) with the presence of one of the authors, American artist Beth Grabowski. It was the first international presentation of the book in its Spanish version in which, in addition, the author talked with the audience of Buenos Aires, answering concerns and sharing her experience during the research and writing of the book. We share some words from Grabowski's presentation, which inspire us to continue with our experimentation in printmaking "Printmaking is a way of thinking".
ABOUT THE BOOK
Printmaking is a practical and comprehensive guide to printmaking techniques. This fully updated edition includes expanded chapters on digital and mixed media processes, and a brand new Print & Make chapter, which explores the opportunities for creative expression within the many processes available to print makers. The more traditional techniques of relief, intaglio, collograph, lithography, screen printing and monoprint have also been refreshed with the addition of new images showing a broader range of subject matter, including more contemporary prints and international artists. A new section on the traditions and techniques of Japanese woodblock printing completes the update.
Each technique is explored from the development of the printing or digital matrix, through the different stages of creation to image output. Clear step-by-step illustrations, interviews with contemporary printmakers and a wide range of images showing the best of cutting-edge printmaking today offer an inspirational resource. Guidance on how to set up a print studio, sections on troubleshooting techniques and the inclusion of up-to-date lists of suppliers, workshops and galleries make this an essential volume for beginner and experienced printmakers alike.
PRINTMAKING: A Complete Guide to Materials and Processes
BILL FLICK & BETH GRABOWSKI
Laurence King Publisher Lnd, 2015, 2nd Edition
Beth Grabowski is an artist and a Zachary Taylor Smith Distinguished Term Professor of Art at the University of North Carolina at Chapel Hill, USA. She is the current president of SGC International, a professional organization for print artists, educators and enthusiasts of everything related to prints.
Bill Flick is a master-printer and professor in the Art Department at Duke University. He is also the director of Cockeyed Press, a publisher specializing in the production of satirical linocuts.
´aceNITE
Visions
Artists in Dialogue
11.05.16
Visions was a special ´aceNITE, in which we focused on contemporary graphics from the production of various national and international artists.
In the Políglota Room we presented works from the series (Re) Read by Beth Grabowski (USA), artist in residency during April-May 2016. In the Central Hall, Dialogue Space and Transversal Space, the works of 11 Argentinean artists were exhibited, who were invited to a group exhibition to homage Grabowski. In the Workshop, Flora Hubot (Belgium) and in La Torre, Bruna Pastorini (Brazil) showed the work produced during their respective residences in recent months in ´ace as an Open Studio.
A night in which the artists could, in addition to showing their work, dialogue with each other and with the community of Buenos Aires that visited us.
ARTISTS IN RESIDENCY
Beth Grabowski (EE.UU.)
Flora Hubot (Bélgica)
Bruna Pastorini (Brasil)
INVITED ARTISTS
Silvana Blasbalg
Patricio Bosch
Silvia Brewda
Graciela Buratti
Alicia Candiani
Adriana Moracci
Ana Noya
Ernesto Pesce
Viviana Sierra
Cristina Solía
Micaela Trocello
Exhibitions
Multiple Visions
Artists in Dialogue
11.05.16
Multiple Visions is the name we chose for this exhibition of Argentinean graphic artists in homage to Beth Grabowski. Heterogeneous views is precisely what was achieved through the combination of all these artists with a profound experience in the field.
An exhibition that allowed referring to several layers of thought, from works related to the cosmic visions (Ernesto Pesce and Patricio Bosch), to the relationship among the human body and territory (Alicia Candiani), the graphic line that mutates into topographic studies (Cristina Solía and Silvia Brewda), the self-reference and memory (Adriana Moracci, Viviana Sierra and Graciela Buratti) to the reference to historical figures (as the case of Macacha Güemes in the work of Micaela Trocello), urban spaces (Silvana Blasbalg) and duality (Ana Noya).
---
ARTISTS
Silvana Blasbalg | Patricio Bosch | Silvia Brewda | Graciela Buratti | Alicia Candiani | Adriana Moracci | Ana Noya | Ernesto Pesce | Viviana Sierra | Cristina Solía | Micaela Trocello