Ireland
Roseanne Lynch
Together Apart: #Shelter
19.08.20 09.09.20
Roseanne Lynch is an artist from Ireland, with an international exhibiting darkroom based photography practice. She is currently based in Leipzig, Germany, making a body of work following a residency at The Banff centre for Arts, Canada.
Lynch's practice is situated within the conversation between photography and architecture. Her approach explores ambiguities within the implied space of the photographic image, as vision transforms into object, while the image holds its indexical link to the subject matter.
ROSEANNE ABOUT TOGETHER APART: #SHELTER
"The mountains I was surrounded by in Banff since late February, and the knowledge that they are sacred to the first occupiers of that part of the Canadian Rockies, felt consciously sheltering to me. I honoured them while feeling alone and far from home. They cradled me."
For the first time in years I photographed the landscape. 25 rolls of medium format film of mountains and rivers. Using test strips and photograms from my brief time in a darkroom earlier this month as source material I have made work as my mind processed thoughts on the meaning to me of shelter.
BIO
Roseanne Lynch
Ireland
EXHIBITIONS
2020 | Forgetting's trace, Embassy of Ireland. Berlin, Germany
2019 | La trace de l'oubli,  Centre Culturel Irlandais, Paris, France
2018 | Eloquent Proof Lindenow #14. Leipzig, Germany
2017 | Eloquent Proof Whitney Modern. Los Gatos, California, USA
2016 | HERE, Sirius Arts Centre, Cobh. Cork, Ireland
Eloquent Proof Nag gallery, 59 Francis Street, Dublin 8, Ireland
RESIDENCIES
2020 | Banff Centre, Alberta, Canada
2018  | The Bauhaus Foundation, Dessau, Germany
Brelingen International Artist residency, Germany
2014 to 2017 | Cork Centre for Architectural Education, Ireland
2015 |The Camargo Foundation Cassis, France, International fellowship programme
2014 | Centre Culturel Irlandais, Paris, France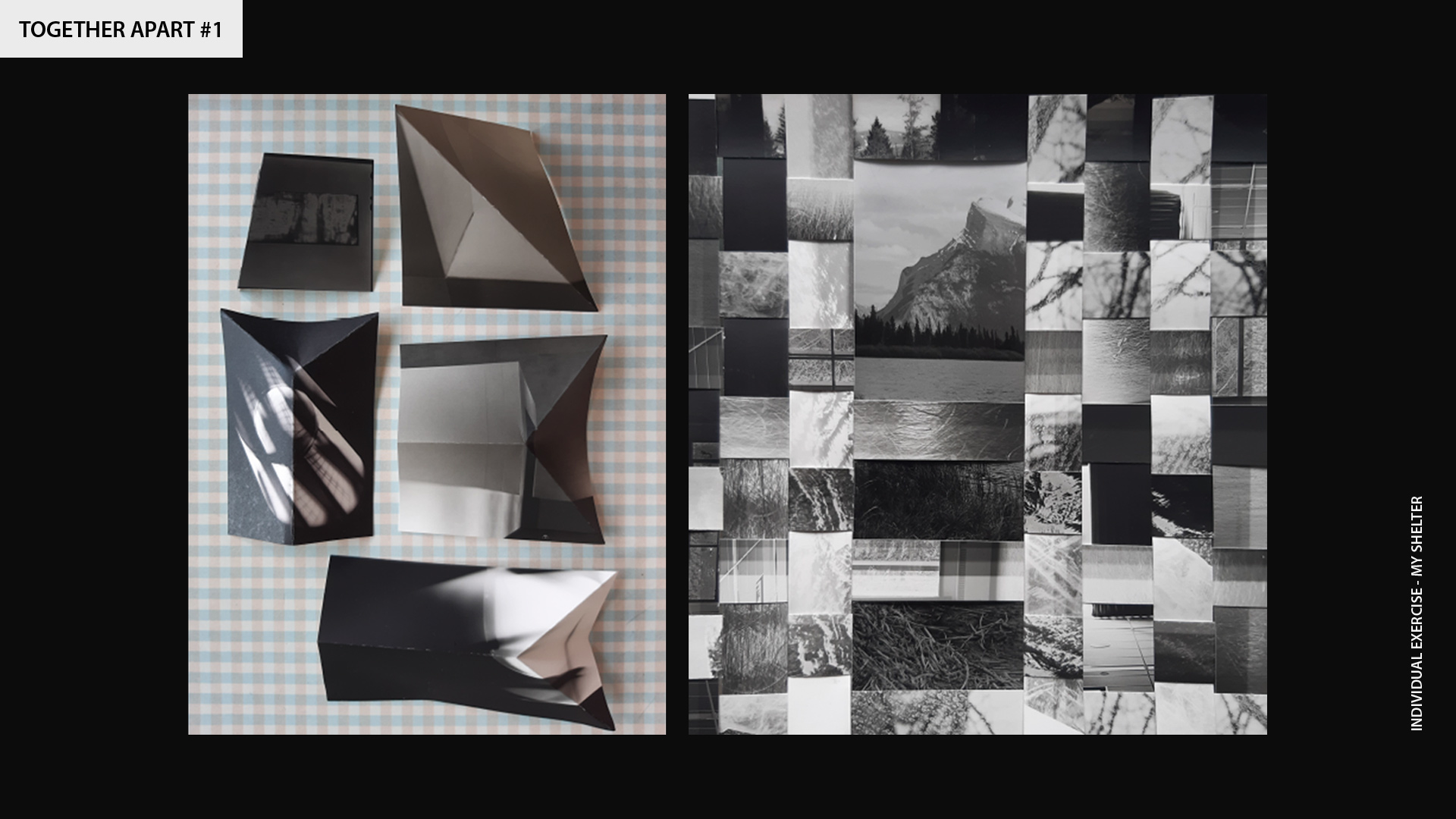 Related Activities
Together Apart
Shelter | Cohort # 1 | English
Artist in dialogue
19.08.20 02.09.20
This first residence-shelter for artistic practices has concluded. We are now opening the first in Spanish under the name NIDO. If you are interested, send us an email to info@proyectoace.org.
---
With a strong group of participants, who come from the four cardinal points, we have given shape to a dream. A dream that began a couple of months ago with an international survey seeking to bring artistic communities together during the pandemic. While we were seeking how to continue doing residencies when the particularity of those, the place where the artist temporarily moved, is gone.  Attempting to rethink the format of artistic residencies programs -in a world in which airports are closed and most of us are forced to lockdown ourselves at home- we realized that ´ace have had to concentrate in support artists more than develop traditional residencies format.
Today our vision has been shared by participants from different parts of the world including North and South America; Europe; Middle East and Australia. TOGETHER APART COHORT # 1 is outlined by the participation of 22 female campers whose expertise embrace a wide range of artistic practices and disciplines: fine arts (including drawing, printmaking, painting and sculpture); installations; photography; video and sound; fashion and textile design; graphic design; performance; dancing and choreography as well as philosophy of art, communication and writing. We cannot be more pleased with this amazing group of women-creators-campers and give all of you our warmest welcome!
A special mention, among all of them, to four´ace Alumni: Aneikit Bonnel, Gina Kukulski and Jill AnnieMargeret from the USA and Dolores (Loli) Delia who is Argentine but is now living  in Australia. These four artist made on-site residencies in the past in 2014, 2017 and 2018 which confirm the bonds that ' ace develops with their residents and the construction of am international affectionally and professional links.
Among all the participants' locations there are more than 6 time zones. Moreover, Dolores is literally in the future, since we are working on Wednesdays afternoon and it is Thursday in Australia.Definitely time will be one of our research themes related with shelter. Keep this in mind!
ABOUT THE ART-BOOTCAMP GENERAL THEME: SHELTER
Shelter surrounds each and every individual on the planet. Along with the need to eat and drink, it is one of the only truly universal needs of every human being on the planet. Simply by recognizing this fact, the world becomes instantly more connected.
The word SHELTER is a synonym for asylum, reception, protection, haven, help, relief… but it also means a suitable place to take cover, which provides physical protection from weather elements, natural disasters and/or other large-scale threats/dangers or simply a place to hide away and have privacy.  Shelter is both, a feeling and a physical space.
A shelter can also be a mental space; the arms of the mother, father or loved one; a corner of our house or workshop where we feel especially welcomed; the uterus that shelters and nourishes the baby; a moment of silence to meditate; a hobby that takes us out of our daily routine… A shelter can have as many meanings as each of us can perceive and create.
Bootcamps are short term, intense training sessions designed to prepare participants for a specific practice. We have defined this ART-bootcamp as a temporary shelter for artistic practices, thinking it as a space for intense learning and exchange. Since it is conformed by a diverse group of artists it is also a good opportunity to work on several artistic, conceptual and social skills through a playful and convivial environment.
We were inspired with the idea of a recreative (Re-Creative) camp,  that activity in which individuals have a temporary and transportable on-site residence. The camp has some survival in conditions that are not those of the comfort of the house.  Due to the lack of comfort that the camp usually represents, it is recommended exclusively for those people avid for adventure and who can resist the inclemency metaphorically speaking!
Sometimes life presents us with situations that exceed our capacities and COVID-19 i one of them. Today we, as artists, confront having difficulties that can push us to the limit and make us question whether we have the strength and will to keep going.  At this point we have two options: let ourselves be defeated and feel like we have failed or overcome and come out stronger. There is a word for this: resilience, which is the human capacity to flexibly assume extreme situations and overcome them.  Moreover, resilient people are not only capable of overcoming the adversities that they have experienced, but they go one step further and use those situations to grow and develop their potential to the full. This is our goal, to look for new ways to approach our practice and adapt to these new times.
SHELTER
Cohort #1 | Language: English
19.08-09.09.2020

---
Moderators
Alicia Candiani |Andres Knob | Adriana Moracci and Cecilia Candiani, connecting from Buenos Aires, Argentina
Daniela Ruiz Moreno, connecting from Colonia, Uruguay

Guest artist
Erika Diettes, connecting from Bogota, Colombia
Artists-campers
Jill AnnieMargaret. Boise, Idaho, USA
Aneikit Bonnel. New York, USA living temporary in Buenos Aires, Argentina
Amber Bowie-Fiol. Seattle, WA, USA
Christine Bruce. Leiden, Netherlands connecting from France
Male Correa. Medellin, Colombia
Dolores Delia. Argentina living in and connecting from Australia
Judith Elisabeth de Haan. Dutch, living in and connecting from Norheimsund, Norway
Caia Diepenbrock. Los Angeles, USA
Carla Freschi. Buenos Aires, Argentina
Giuliana Grippo. Argentine, living among Argentina and Spain, connecting from Buenos Aires
Janette Hopper. Wilmington, North Carolina, USA
Gina Kukulski. Michigan, USA
Dawn Langley. Woking, UK
Roseanne Lynch. Irish connecting from Germany
Sara Minsky. New York, NY, USA
Maria Picone. Myrtle Beach, NC, USA
Ariana Pirela Sánchez. Venezuelan living in and connecting from Montreal, Canada
Jannelle Roberts. Hudson, NY, United States
Anna Rose. American living in  and connecting from Florence, Italy
Shereen Shalhoub. Jordanian living in and connecting from Dubai, United Emirates
Alessandra Stradella. Italian living in and connecting from the USA
Ana Vivoda. Zagreb, Croatia