Ireland
Roseanne Lynch
Together Apart: #Shelter
19.08.20 09.09.20
Roseanne Lynch is an artist from Ireland, with an international exhibiting darkroom based photography practice. She is currently based in Leipzig, Germany, making a body of work following a residency at The Banff centre for Arts, Canada.
Lynch's practice is situated within the conversation between photography and architecture. Her approach explores ambiguities within the implied space of the photographic image, as vision transforms into object, while the image holds its indexical link to the subject matter.
ROSEANNE ABOUT TOGETHER APART: #SHELTER
"The mountains I was surrounded by in Banff since late February, and the knowledge that they are sacred to the first occupiers of that part of the Canadian Rockies, felt consciously sheltering to me. I honoured them while feeling alone and far from home. They cradled me."
For the first time in years I photographed the landscape. 25 rolls of medium format film of mountains and rivers. Using test strips and photograms from my brief time in a darkroom earlier this month as source material I have made work as my mind processed thoughts on the meaning to me of shelter.
BIO
Roseanne Lynch
Ireland
EXHIBITIONS
2020 | Forgetting's trace, Embassy of Ireland. Berlin, Germany
2019 | La trace de l'oubli,  Centre Culturel Irlandais, Paris, France
2018 | Eloquent Proof Lindenow #14. Leipzig, Germany
2017 | Eloquent Proof Whitney Modern. Los Gatos, California, USA
2016 | HERE, Sirius Arts Centre, Cobh. Cork, Ireland
Eloquent Proof Nag gallery, 59 Francis Street, Dublin 8, Ireland
RESIDENCIES
2020 | Banff Centre, Alberta, Canada
2018  | The Bauhaus Foundation, Dessau, Germany
Brelingen International Artist residency, Germany
2014 to 2017 | Cork Centre for Architectural Education, Ireland
2015 |The Camargo Foundation Cassis, France, International fellowship programme
2014 | Centre Culturel Irlandais, Paris, France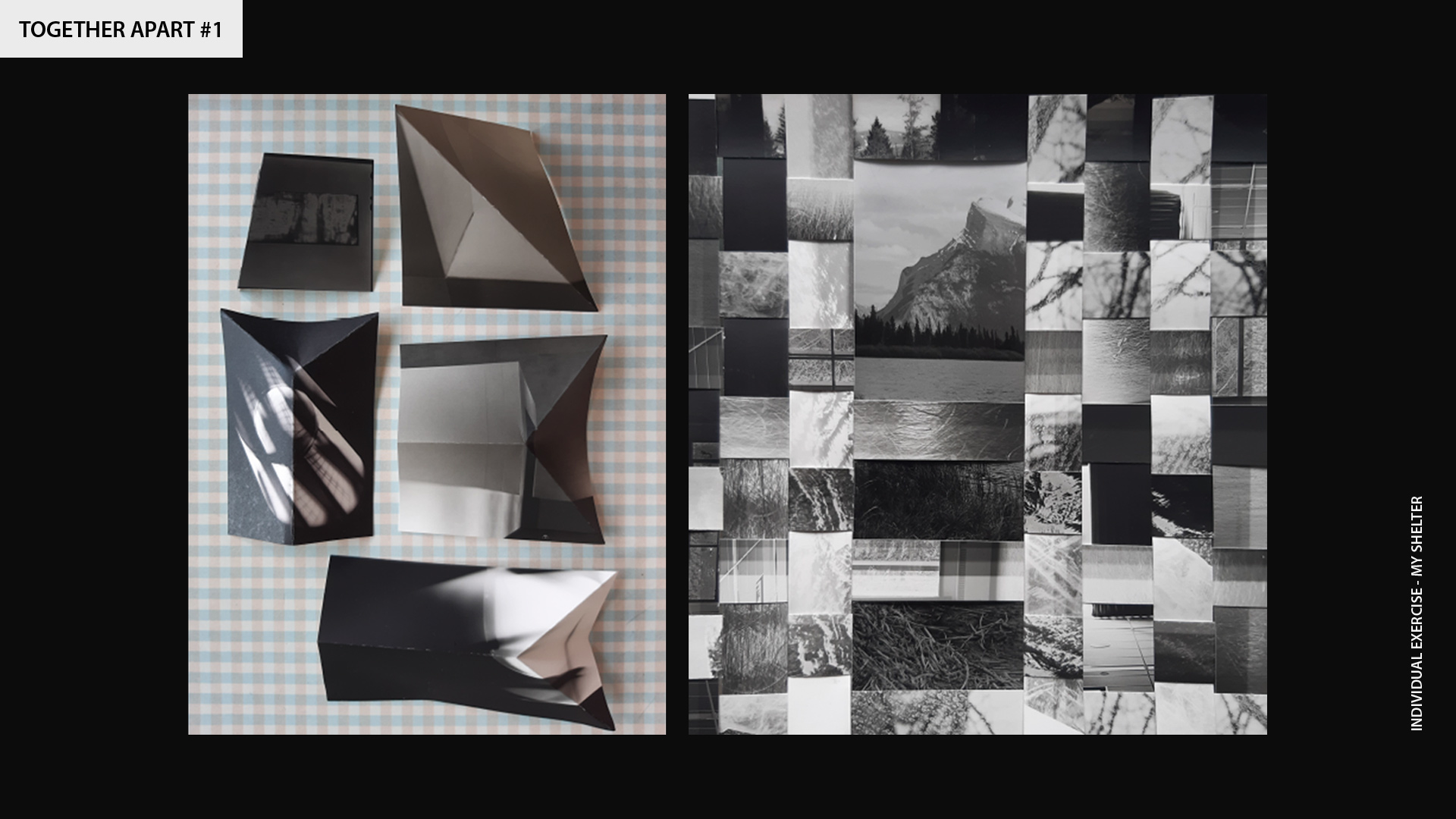 Related Activities
Exhibitions, Together Apart
#1 | SHELTER: results
Artists in dialogue
16.12.20
During 2020, we carried out the first two sessions of Together Apart. The first session took as a conceptual and practical framework the REFUGE and the second, the NEST.
Through those starting points, both of which refer to caring atmospheres and structures for coexistence, we were able to think and create in a wide variety of directions and layers. We reflected on our pandemic context, a situation for which we had to find ourselves in the virtual non-space, but also a situation thanks to which people from many different countries were able to work simultaneously.
Assuming this complex situation, more than 20 participants per session created new pieces –some in exercise format–, took up projects that they had already worked on in the past or collectively set out to create new projects that will continue to develop beyond the scope of our meetings.
Taking these refuge and nest issues also in their complexity, we asked ourselves questions that made each of the participants involve their personal experiences, memory, memories and experiences from each of their territories. We addressed questions that sought to keep us in constant movement; at times we went through very optimistic or pessimistic visions about the possibility or necessity of having a shelter or a nest, and at other times, we were able to articulate more complex visions, enduring in intermediate and liminal states. For both, we took as a theoretical structure of support and dialogue the thought of Félix Guattari presented in The Three Ecologies (1989). His ethical-political approach that highlights the molecular domains of sensitivity, intelligence and desire, as well as his articulation of the three ecological registers (environment, social relations and human subjectivity), helped us to expand our creations and thoughts in relation to shelter and nest.
During the first session, when asked about the conditions that a refuge can have and the conditions that we would like a refuge to have, the artists (coincidentally and by chance, we had a cohort one hundred percent comprised of women) generated sculptural pieces, artists' books, photographs, videos, dance pieces and more, reflecting on the permeability or isolation structures that a shelter can have. Also, many artists started from their bodily memories to refer to the refuge and made improvisation and performance pieces. We created in relation to the refuge conditions presented by nature and the refuges that we create to protect ourselves from certain natural conditions. Memory as a refuge and shelters for memory also arose through textile practices or from the use of jewelry or objects with which we build links. Finally, the bonds and the community as spaces that shelter and spaces that imply care was another of the axes that we explored through pieces that included readings of texts and sound activations.
Together Apart has functioned as a program that opened up possibilities for meeting and collaborative creation. It has made possible the creation of new rhythms and synchronies for a limited time but whose reverberations and echoes continue to affect in unexpected directions.
Daniela Ruiz Moreno (curator-in-residency)