South Korea
Bokyung Jun
Lapis Philosophorum
29.10.18 23.11.18
Bokyung Jun is an artist who works from the relational, the video, the installation and the poetry. In an attempt to know, preserve, archive and poetise manual works that are disappearing due to technical development, the artist makes encounters with people who have done manual labor for many years. In Buenos Aires, she met Elías Fernández, the founder and still an umbrella maker at the Paragüería Victor, in the Boedo neighborhood, and Lidia Quipildor, cook for more than 10 years at Fundación´ace.
ARTIST STATEMENT
Getting old is a process of writing a personal history. One African old saying goes, "When one elder man dies, a library is burned down." Like an annual ring of a tree, a human inscribes time in one's body, and one's skin becomes hardened with memories.
But redistribution of labor through urbanization, mechanization and digitalization through redevelopment alienates the old and the human body from the culture or art. These days structure or system only emphasizes the newness, speediness, and sophistication. I would like to re-write the relationship between art, labor, aesthetics and non-aesthetics by recalling the memories of relatively obscured individuals and redefining their relationship with history.
How has the value of the human body's significance been changed by industrialization and civilization? Unlike Taylorism, which empties work of meaningful content and generates alienation by emphasizing simple repetition in working process, is it possible to re-discover the aesthetic sensibility they have in their labor? If it was theoretically explained that the beauty and charm of the bodies in labor, it would certainly take the place of beauty in the field of aesthetics and be categorized as an art. But the beauty in labor did not considered as an art. In this regard, French philosopher Jacques Rancière wanted to expand the arts with 'aesthetic things' instead of the norm of aesthetics. For him, the politics of aesthetics was made up of the logic of exclusion, so that all human beings could not participate in judging the status of beauty. I want to find the charm of people who have been excluded from the world of aesthetics but have potentials to be aesthetic elements.
The way I conduct a project is meeting (act), listening (story), and writing (visualization).
The project that I pursued at ´ace is an attempt to discover the aesthetic sensibility memorized in working gestures by recording people who keep one's handcraft work. The concept has been borrowed from the field of alchemy. Alchemy, which believes that the universe is a mixture of the four basic elements (fire, earth, air, water), can be gained by combining these four elements well, and eventually gain the gold. However, to me, is not a simple material, but rather a psychologist C. Jung's opinion of self-liberation, self-realization. Jung emphasizes that the work of alchemists attempting to make gold is a "self-realization" that psychologically finds his own unconscious and completes him/herself. Self-realization is a 'homo artis (human who can do art)' who develops his own intellect and creativity and performs self-emancipation and self-artistry.
BIO
Bokyung Jun
1979 | Seoul, South Korea.
EDUCATION
2016 | PHD cum laude in Painting, Ewha womans University. Seoul, South Korea.
2010 | MFA cum laude in New Form, Pratt Institute, Brooklyn, NY, USA
2007 | MFA cum laude in Digital Media, Rhode Island School of Design, Providence. Rhode Island, USA
2002 | BFA cum laude in Painting and Printmaking, Ewha womans University. Seoul, South Korea.
EXHIBITIONS
2018 | In-visible, Incheon Art Platform. Incheon, South Korea
2017 | Koganecho Bazaar 2017. Yokohama, Japan
2016 | The Song of Sirens: Shining Dissonance, TEMI Artist Residency.  Deajeon, South Korea.
2015 | Conversation between Slant Cones, Gallery Chosun. Seoul, South Korea.
AWARDS AND RESIDENCIES
2018 | Exhibition Grant, Incheon Art Platfrom, Incheon, South Korea.
2017 | Koganecho Bazaar. Yokohama, Japan.
2016 | Grant by Art Council Korea for international residency participation
2016 | ZK/U (Center for Art and Urbanistik). Germany.
2016 |TEMI Artist Residency. Deajeon, South Korea.
2015 |Visual art Grant by Seoul Foundation for Arts and Culture
2012 | Space Beam International Residency. Incheon, South Korea.

Related Activities
Exhibitions
Lapis Philosophorum 
Bokyung Jun
21.11.18 14.12.18
Bokyung Jun is interested in the relationship between art and non-art, as well as history and personal memory. Her work is based on interviews with people who have a hand craft oriented job for a long time. She is inspired by these non-art realm-people and finds "new sensibility of aesthetics" in real life, which is not included in the traditional aesthetics. She invites local craftsman as her "ignorant masters" (J. Ranciere) and documents their life stories. Finally, she interprets, deconstructs, and reconstructs interview with history, myth, literature to write a poem for the interviewee's life. In doing so, two opposite narratives –personal oral statements and facts– re-write his/story. This is a way to make invisible, inaudible, and unsayable stories to be part of new history.
The artist made a video about Lidia Quipildor, who has been working at ´ace for 10 years. She is responsible for the maintenance and meals at ´ace. She provides caring and nourishing for the artists in silence. But at the same time, she enjoys making crafts as her hobby. In tradition, people regarded the art and labor are separated each other, but indeed the workers find out their value and meaning when they read books and talk about art.
In this 2 channel video, I filmed the process of her empanada making as well as craft making. While I am recording the gestures without tools for cooking or making craft, there is no clear distinction between working and art.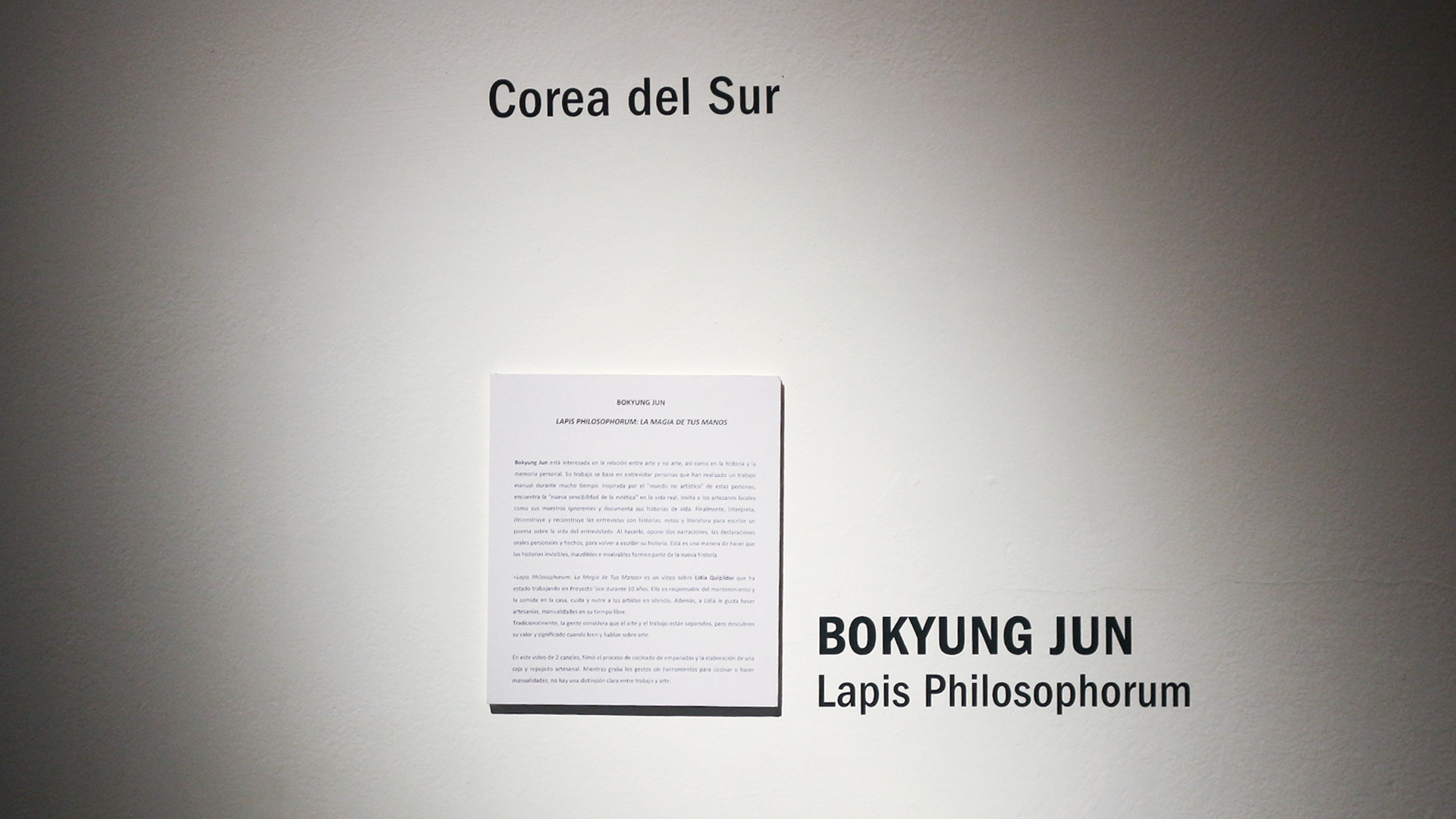 ´aceNITE, Exhibitions
Light
Artists in Dialogue
21.11.18
On Wednesday, November 21st we held an ´aceNITE opening., in which the projects developed by artists during their residence were exhibited together with works by the invited artists.