Brazil
Alexandra Ungern
#Frontera
22.02.21 15.03.21
Alexandra Ungern is a Brazilian artist, daughter of immigrant parents from Germany and Hungary. She was born in Recife in the state of Pernambuco, but as a child her family settled back in São Paulo. Initially trained as a teacher, she decided to start her artistic studies in 2002, and has been dedicated as a visual artist since then.
Alexandra has always expressed her desire to collaborate with fellow artists and curators in a project space. With this motivation, in 2012 she founded the Espaço de Arte Ateliê Alê, in São Paulo, Brazil, an Artspace open to the public, enabling knowledge and access to contemporary art. Alexandra is fluent in English, Portuguese, Spanish and German.
ARTIST´S STATEMENT
There is a need to seek answers and ask questions on topics that involve my daily life. My artistic research explores experiences related to memory, life and finitude. I am interested in establishing connections between stories from the past and current events, revealing the scars of something that no longer exists indicating physical transformations that occur over time. My multidisciplinary practice incorporates drawing, photography, painting, video and installation.
"Drawing, object, assemblage, photography, video and painting draw a broad panorama of the artist's research and poetic universe, whose central theme is matter, in its permanence or ephemerality, in its changing nature and derives. A reflection on memory that shows a concern about time, life, its finitude and transformation." Claudinei Roberto da Silva / Brazilian Curator
ACERCA DE FRONTERA
This was my first residency in Project ´ace's online, and it was very different other experiences I had. In my case, a residency, that you are physically present, brings an immersion in the cultural context of the country and develop artistic thoughts and works that reflect this cultural contact.
´ace provided the possibility for an interpersonal interaction with artists from around the world talking and discussing a common theme simultaneously. The result was unexpected for me, as I was thinking of going ahead with some research of my own.
It was quite surprising how this experience opened a new research path through digital means of communication. Me and Isabel, my group partner, are thinking of following this online exchange and work more intensively on what we started on ´ace research. This collaboration and this virtual contact taught me that it is possible to work in this way and that the results can be quite exciting.
BIO
Alexandra Ungern
1967  Recife, Brasil
Lives and works in  São Paulo, Brasil
STUDIES
2011 | Bachelor of Arts: Visual Culture, Webster University, Vienna, Austria
2004 | Visual Arts, Escola Panamericana de Arte, São Paulo, Brasil
EXHIBITIONS
2021 | 1ª Exhibitions Online of Visual Arts Gallery Ibeu, Brasil
2020| Tombamento,  Itajaí Gallery, Brasil
2017 | Laços, Tato Gallery, São Paulo, Brasil
2016 | Inteam, Savaria Múzeum, Szombathelyi, Hungría
2014 | Die Fliegen [Las moscas], Metro station MASP / TRIANON and Metro São Bento, Public Works, São Paulo, Brasil
RESIDENCIES
2021 | Frontera, Juntos a la distancia, Proyecto ´ace, Buenos Aires, Argentina
2019 | W artistic residency Ribeirão Preto, São Paulo, Brasil
2016 | D'Clinic Artistic Residence, Zalaegerszeg, Hungary
AWARDS
2020| Prize for the occupation of the Galleries of Itajaí,  Brasil
2015 | Gallery Award Fernanda Milani – Teatro Polytheama, Jundiaí , São Paulo, Brasil
2014 | Special references from the jury- 10º. Contemporary Art Hall of Marilia, Galeria M. De Artes, São Paulo, Brasil
OTHERS
Public collections:
2008 | La sombra de un origen, políptico, MUnA, Museo Universitario de Uberlândia, Mina Gerais, Brasil
2008 | Two Aruanas,  Ross Business School, Ann Arbor, Michigan, USA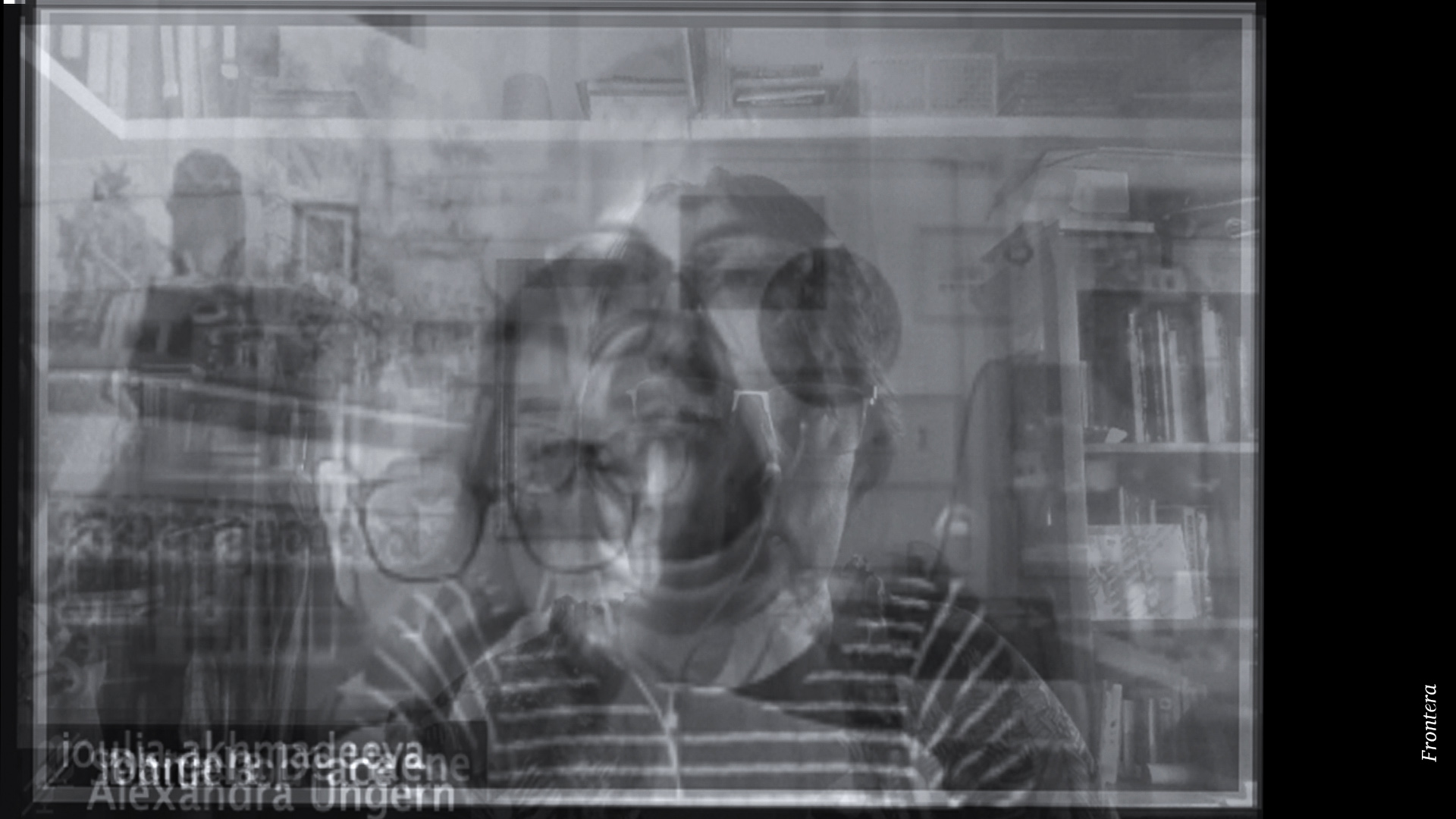 Related Activities
Exhibitions
#4 | FRONTERA: results
Artistas en diálogo
15.03.21
Frontera was the theme that we took as the practical and conceptual framework for the fourth session of the new online program Together Apart. This site compiles the results of the cohort in Spanish that worked from February 22 to March 15, 2021 with 22 artists from Argentina, Aruba, Brazil, Chile, Colombia, Ecuador, Spain, the United States, Mexico and Portugal.
---
Through 4 encounters we collectively and individually created ideas and artworks which explored a non-binary approach of the topic. The participant artists also had the possibility to dialogue with international artists invited to present their contributions and explorations in relation to the topic (Roberto Celis and Daniela Rivera). For this session we also gave priority to moments of peer review or collective feedback and to open discussions which drifted through issues of art and therapy, art and research, participatory art, the complexity of artistic collaboration and how collective practice appears to be a right to claim even more in moments of isolation.
Frontiers as geopolitical frontiers, as cultural, bio-political; frontiers as limits and as separations within the artistic disciplines, frontiers as hegemonic considerations of our bodies and identities.
Through different theoretical readings and artistic references, and through the proposals of each of the participant artists, we identified the importance of liminal states, the non-binary, we assumed the difficulty of inhabiting the in-between but also recognized that art practice is what allows us to live in ambiguous states and to constantly raise questions. We also explored other practices as breathing techniques, meditation and knowledge and skills sharing as methods to break through discriminative or isolating frontiers.
Through poetry, film, online performances, video art and the creation of a network for artists through the method of "participatory asset mapping", the artists from this cohort created in search of commonalities in their migrant's everyday experiences, resonances among the natural conditions of the places they live in, the links among their identities and psychological researches and in search of practical collaborations to continue working in the future.
DANIELA RUIZ MORENO | Curator-in-residence